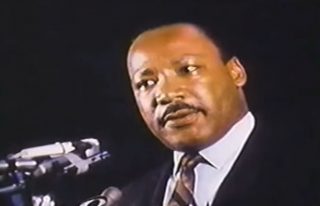 Today, as we celebrate the life of Martin Luther King Jr., one might want to view his iconic "I Have a Dream" speech, which inspired the nation when Dr. King delivered it outside the Lincoln Memorial on August 28, 1963. Chances are that you won't see it on TV though, since the MLK estate is very protective over the speech's copyright.
U.S. copyright law gives a creator (and their estate) rights over a work that last the duration of their lifetime plus 70 years. That means that the earliest that the "I Have a Dream Speech" could enter the public domain would be 2039, 70 years after Dr. King died. Until then, any time anyone wants to use the text or a recording of the speech, they have to get a license from the King estate. If they don't? Well, the estate has had no problem going to court over it, and they have a pretty good record too.
When USA Today published the text of the speech in the 90s, they got sued and ended up purchasing a license and paying for attorneys' fees in a settlement. They also successfully sued CBS for including video of the speech in a documentary. When the Oscar-nominated film Selma came out in 2014, it couldn't include the speech, as film rights were already given to Dreamworks for a future project.
The litigious protection of the speech didn't just start with Dr. King's heirs. King himself was the one who sent a copy of the speech to the U.S. copyright office, and he sued Mister Maestro, Inc., and Twentieth Century Fox Records Company over unauthorized sales of the speech.
Normally, copyright laws are meant to protect the interests of creative artists, allowing them to profit from their work, which may make this case seem odd. After all, Dr. King was a civil rights activist, not an author who was selling his work. Some might question his estate for profiting from it. However, King's heirs get more than just money by strictly enforcing the speech's copyright. They also protect his legacy by controlling how it's used.
[Image via screengrab]
Have a tip we should know? [email protected]