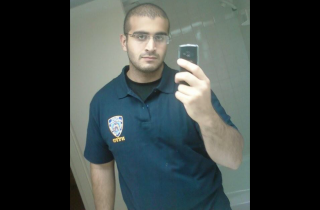 The wife of mass shooter Omar Mateen has reportedly been arrested in connection to his June 12 rampage at a gay nightclub. The FBI arrested Noor Salman on an obstruction of justice charge, The New York Times reports. This California resident has been scheduled for an appearance in a San Francisco federal court. Another report from CBS news said she has also been charged with aiding and abetting.
Investigators say Mateen murdered 49 people and injured 53 at the Pulse nightclub in Orlando, Florida. It's the biggest mass murder in American history, and he even called 911 on himself. He pledged allegiance to ISIS as seen in police department transcript, though no hard links to the terrorist organization have been substantiated. He died in a gunfight with cops.
Ever since the shooting, the idea that Salman would be charged has been floated. She said she's not culpable.
"I was unaware of everything," she told The New York Times in a November report. "I don't condone what he has done. I am very sorry for what has happened. He has hurt a lot of people."
Will she get convicted? The feds haven't publicly announced charges, so what they think she specifically did remains unclear. There are some points to consider, however. LawNewz.com columnist Ronn Blitzer examined the likelihood of an arrest in a June article.
Here he is on a possible charge for aiding and abetting:
Both Florida and federal statutes say that anyone who "aids, abets, counsels" or procures the commission of an offense is treated the same as the person who committed the act. By going with her husband as he acquired a gun and visited the building that he later attacked, possibly to case the place, Salman may be guilty of aiding and abetting, especially if she was the one driving.
He later wrote:
Of course, having enough evidence to arrest someone and having a strong enough case to convict them are two very different things. At this point in time, we just don't know what Salman knew, or what she was thinking. Did they conspire together, or did she simply remain silent while he planned everything himself? She claims she knew her husband wanted to commit an offense, but did she know that at the time she went with him to buy a gun? When she went along with him to Pulse prior to the shooting, did she know or even suspect that the venue would be his target? If she was aware of these things, did she accompany him voluntarily?
Blitzer said the FBI wouldn't arrest someone unless they're confident it will likely end in a conviction.
This is a developing story. We will update as more information becomes available.
Update – January 16, 2017, 12:26 p.m.: We've added information on how Salman addressed allegations that she knew about Mateen's plan. We also added excerpts from Ronn Blitzer's June article on whether she would face charges.
Have a tip we should know? [email protected]