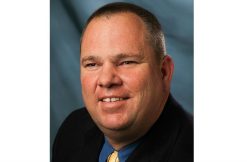 A Georgia politician caught some attention Saturday after calling Democratic Congressman John Lewis a "racist pig," but he has now told LawNewz.com that it was a "poor choice of words."
"John Lewis is a racist pig," Tommy Hunter wrote in a now-gone Facebook post, according to The Atlanta Journal-Constitution. "There ain't one political pundit that didn't say on November 9 that this would be Demonrats [sic] EXACT response to Trump winning. Like I heard Rush, I believe say, Demonrats DO NOT live in reality. They believe polls were right and THE REAL VOTES were wrong. What a bunch of idiots."
What got him so mad? It's this interview that fellow-Georgian Rep. Lewis gave to NBC News' Chuck Todd.
"I don't see this President-elect as a legitimate president," Lewis said, later explaining, "I think the Russians participated in helping this man get elected. And they helped destroy the candidacy of Hillary Clinton." Now he won't attend the Jan. 20 inauguration.
Trump's victory has been questioned because of the unverified claim that the Russian government supported cyberattacks to get him elected. Intelligence officials believe this is how Wikileaks, a publisher of sensitive and classified government information, got their hands on the emails of Clinton's campaign chairman, causing her months of bad press.
As for Hunter, he's a Republican who serves on the Gwinnett County Board of Commissioners. His choice of insult—"racist pig"—is patently ironic: Lewis is a veteran of the Civil Rights Movement, and the last surviving speaker of the 1963 March on Washington. It didn't seem that Hunter was sorry about the post at all, though. On Sunday, he posted an image featuring actor Tom Hardy and this superimposed message:
IF YOU'RE EASILY OFFENDED AND LOOKING FOR A "SAFE PLACE" MY PAGE AIN'T IT..

MOVE ALONG SNOWFLAKE
It suddenly disappeared Monday morning. We reached out to him for comment.
"Poor choice of words on my part out of frustration with Mr. Lewis calling my vote illegitimate," he told LawNewz.com. "Problem is, you write them down you can't get them back. I had to change settings because of folks that I know that read my posts. The storm will have to roll."
As of late Monday morning, his most recent Facebook post is a decidedly apolitical message from Jan. 1.
[image via Gwinnett County]
Have a tip we should know? [email protected]