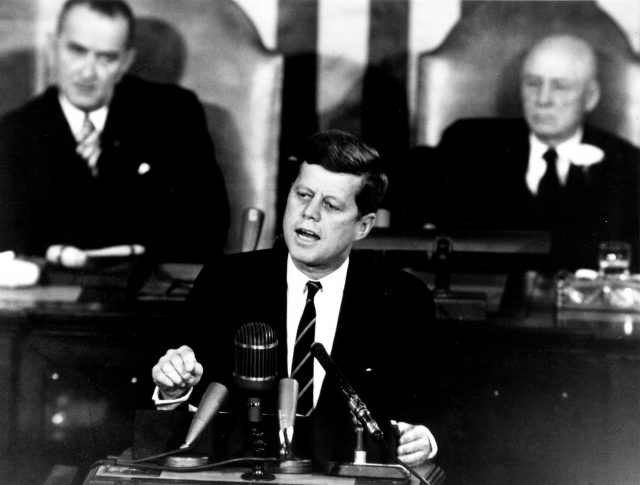 The long sought-after JFK Files will be released later today.
The result of a 25-year-old law passed by Congress and signed by President George H.W. Bush in 1992, the full slate of records related to the assassination of John Fitzgerald Kennedy will finally be available to the public.
Here's how to access them:
1. Head over to the National Archives. 
The National Archives house the entirety of the publicly-available records related to JFK's assassination. They're also the agency in charge of scanning them and uploading them online. Here's their website.
2. Click on the "Stay Tuned for Updates: John F. Kennedy Assassination Records Collection" banner. 
Pretty self-explanatory here. This banner is likely to change throughout the day, however, so once you're there just look on the homepage for something referencing JFK and you're set. Here's a direct link.
3. Click on the "2017 Release" button on the right-hand side of the screen.
A massive cache of documents was already released earlier this year. Those releases span a full 22 files worth of previously released in part and previously withheld in full documents. The October 26 release is mandated by law so the National Archives are scurrying to get the final cache of documents out to the public in time. Direct link here.
4. Download the new files and extract them.
Simply scroll past the first 22 files released this year–scroll all the way down–and download the October releases. The files will be in .zip format, so they'll need to be extracted. If, for some reason, you don't already have a .zip file extractor on your computer, then you'll need to download one in order to access the JFK files. Here's where to get one for Apple computers. Here's one for Windows.
5. Peruse the files at your leisure.
For the full-blown effects of nostalgia, lean back–or even better, sit up straight–and dive into all the lurid details while listening to a greatest hits collection of tunes from the '60s. LawNewz recommends this compilation in particular, which runs at about an hour and begins with the Roy Orbison classic "In Dreams."
[image via shutterstock.com]
Follow Colin Kalmbacher on Twitter: @colinkalmbacher
Have a tip we should know? [email protected]