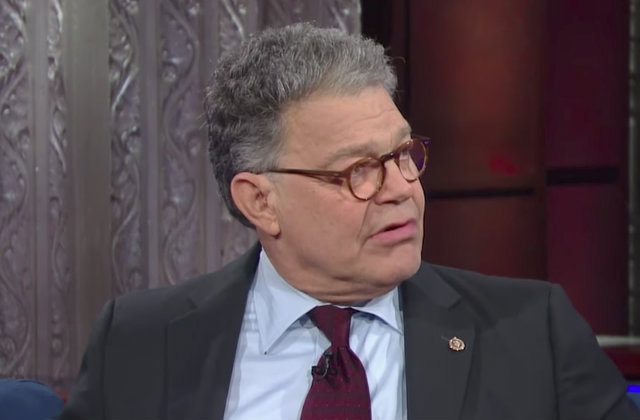 Thursday brought news that Sen. Al Franken (D-Minnesota) allegedly groped KABC anchor Leeann Tweeden during a USO tour in December 2006. Tweeden said he forcibly kissed her without consent during a rehearsal, and she provided photographic evidence of him placing his hands on her chest. Franken, who joined the Senate in 2009 after a long career in comedy, faces a likely ethics investigation. Here's what will happen if he resigns, or otherwise loses his job.
I've decided it's time to tell my story. #MeToohttps://t.co/TqTgfvzkZg

— Leeann Tweeden (@LeeannTweeden) November 16, 2017
The 17th Amendment sets the framework for filling Senate vacancies. The governor will appoint a replacement. That person serves out the rest of the Senator's term unless the state legislature establishes a law for special elections.
When vacancies happen in the representation of any State in the Senate, the executive authority of such State shall issue writs of election to fill such vacancies: Provided, That the legislature of any State may empower the executive thereof to make temporary appointments until the people fill the vacancies by election as the legislature may direct.
Under Minnesota law, Gov. Mary Dayton, a member of the Minnesota Democratic-Farmer-Labor Party, would appoint Franken's temporary replacement. This person would fill the seat until a special election. Let's say the vacancy happens at least 11 weeks before the state's Democratic Party primary scheduled for next August 14. That means Minnesotans would vote on Franken's seat in the November 2018 mid-term elections. The winner would serve out the rest of his term, which ends on January 3, 2021.
That, of course, assumes he loses his job. His apology on Thursday didn't quite own up to Tweeden's version of events.
Just got a response from @alfranken: "I certainly don't remember the rehearsal for the skit in the same way, but I send my sincerest apologies to Leeann. As to the photo, it was clearly intended to be funny but wasn't. I shouldn't have done it."

— Asher Klein (@kleinstar) November 16, 2017
He followed up with a longer statement where he appeared more contrite, but he still maintained that he didn't remember the rehearsal as Tweeden did.
Longer statement from Sen. @alfranken: pic.twitter.com/aceRG3bgGp

— Jake Tapper (@jaketapper) November 16, 2017
He said he'd cooperate with an ethics investigation. If he only leaves the job within 11 weeks of the August primary, then that means there wouldn't be a special election. Voters would next file ballots on his seat in 2020, when he would've been up for reelection anyway.
[Screengrab via CBS]
Have a tip we should know? [email protected]