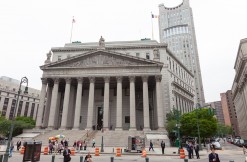 A New York City gynecologist pleaded guilty Tuesday to sexually assaulting two patients in exchange for avoiding prison time. This man, Robert Hadden, also lost his medical license and promised never to get another one, in- or out-of-state, according to his agreement with the Manhattan District Attorney's Office.
Overall, Hadden was alleged to have sexually assaulted six patients (all pregnant women), but the plea bargain only recognizes two victims.
After all the legal wrangling, he's being held responsible for a charge of criminal sex act in the third degree (a felony), and forcible touching (a misdemeanor). Now he will be required to register as a level one sex offender. In New York State, that means authorities think he's unlikely to repeat again, but he'll need to stay on the registry for 20 years.
[h/t New York Daily News]
[image of New York County Courthouse via Shutterstock]
–
Follow Alberto Luperon on Twitter (@Alberto Luperon)
Have a tip we should know? [email protected]