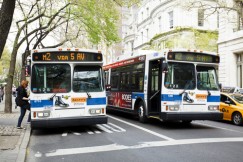 How was your commute this morning? Probably nothing compared to what the passengers on a New York City bus had to deal with Tuesday, when a woman refused to stop smoking and then allegedly stole the bus itself.
According to NBC New York, the woman started smoking a cigarette in the back of the bus, and the driver told her to put it out. She would not stop smoking or get off the vehicle.
The driver pulled over to let passengers exit and board another bus while he called the police. While he was letting passengers off the vehicle, the woman slipped behind the wheel and took off with the bus.
She made it three blocks before her hijacking plans went up in smoke, when police stopped her and took her into custody.
[Image via Shutterstock]
Have a tip we should know? [email protected]