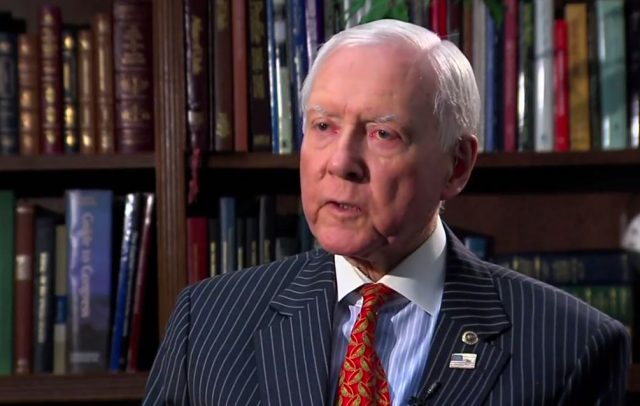 Senator Orrin Hatch (R-Utah) introduced a bill on Wednesday that pushes for research into uses for medicinal marijuana. Hatch had a little fun with his statement announcing the Marijuana Effective Drug Study Act of 2017, or MEDS Act, dropping some not-so-subtle references to the substance.
"It's high time to address research into medical marijuana," Hatch said, but he was just getting started with the wordplay.
Our country has experimented with a variety of state solutions without properly delving into the weeds on the effectiveness, safety, dosing, administration, and quality of medical marijuana. All the while, the federal government strains to enforce regulations that sometimes do more harm than good.
The fun puns didn't stop there.
"To be blunt, we need to remove the administrative barriers preventing legitimate research into medical marijuana, which is why I've decided to roll out the MEDS Act," Hatch said.
The MEDS Act aims to ramp up research into medical uses for marijuana, and to increase the availability of marijuana for such research.
Joining Hatch in sponsoring the bill is Senator Brian Schatz (D-Hawaii), Senator Chris Coons (D-Delaware), Senator Cory Gardner (R-Colorado), and Senator Thom Tillis (R-North Carolina).
Have a tip we should know? [email protected]