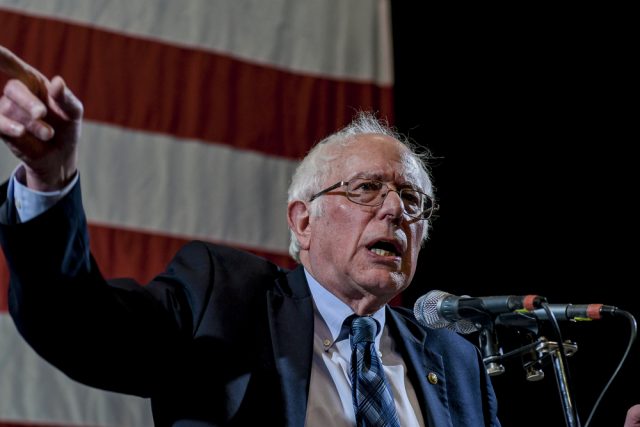 Bernie Sanders' "Medicare for All" bill aims to rewrite the trajectory of American history, and the Vermont senator is announcing the introduction of that landmark legislation with no fewer than 16 co-sponsors.
Some of those co-sponsors, however, have received–and continue to receive–hefty campaign contributions from the same industries that Sanders' bill ultimately aims to make obsolete.
For example:
Cory Booker's 2020 primary re-election campaign received $3,000.00 from BluePAC, one of the political action committees for Blue Cross/Blue Shield. Immensely popular in his home state and with a fairly pristine national profile, Booker is not expected to have a serious primary challenger in 2020.
New York Senator Kirsten Gillibrand took $1,000.00 from The Blue Cross and Blue Shield Association PAC–for her 2018 primary re-election campaign. Gillibrand does not a have a primary challenger for that swiftly-approaching election.
Another co-sponsor, Senator Tom Udall from New Mexico, raked in at least $7,000.00 from BluePAC for his 2020 re-election campaign. And, in 2014, he took $4,500.00 from BluePAC.
The Centene Corporation–by way of the Centene PAC–gave Senator Jeanne Shaheen of New Hampshire a $5,000.00 campaign contribution in April for her 2020 primary campaign. Centene sells health care to Medicare recipients who find their coverage lacking. They also heavily benefit from the Obamacare framework. That is, the status quo works wonders for their bottom line. Shaheen is not expected to have a credible primary challenger in 2020.
Senator Sheldon Whitehouse (D-RI) is a darling of the pharmaceutical industry. For his 2018 primary re-election campaign, Whitehouse received at least $7,500.00 from Big Pharma by way of the Alkermes, Inc. Political Action Committee and the AMGEN Political Action Committee. Both Alkermes and AMGEN are multinational pharmaceutical and biotechnology corporations. Whitehouse does not have a primary challenger for the 2018 contest.
Hawaii Senator Mazie Hirono, another co-sponsor of Sanders' "Medicare for All" bill, received $5,000.00 from the UnitedHealth Group Incorporated PAC for her 2018 re-election campaign. UnitedHealth Group is a managed care company which has bailed out of most Obamacare exchanges.
And that's just some of the PAC money–for just a few recent and upcoming election cycles.
When lobbyist contributions are also taken into account, the amounts get dizzying.
According to OpenSecrets, Senator Richard Blumenthal of Connecticut, another "Medicare for All" co-sponsor, received $15,000 from Blue Cross/Blue Shield lobbyists in 2016 alone. Martin Heinrich, the co-sponsoring senator from New Mexico, received $8,000 in 2016 from Blue Cross/Blue Shield lobbyists. Booker, Gillibrand, Shaheen, Hirono and Udall racked up in excess of $30,000 combined in such lobbyist support last election cycle.
LawNewz conducted this preliminary analysis as news of Sanders' multiple co-sponsors on his watershed health care bill was announced to the press. As mentioned, this health care bill represents a drastic departure from America's for-profit system of health insurance–one that would level a harsh impact on the business practices and profits of the check-writing companies and organizations mentioned above.
The number of co-sponsors for Sanders' bill is only expected to grow as the legislation moves forward. The announced number of co-sponsors suggests a marked shift in Democratic Party thinking and orthodoxy on the issue of health care. Prior to the Sanders phenomenon, the Democratic Party was more or less in agreement with the GOP and industry about tinkering around the edges of the current system. All that's changed now–probably for good.
The campaign contribution amounts reported above, however, suggest there is still quite a bit of daylight between Sanders' own thinking on campaign finance and that of his Democratic Party colleagues.
[image via Shutterstock.com]
Follow Colin Kalmbacher on Twitter: @colinkalmbacher
Have a tip we should know? [email protected]