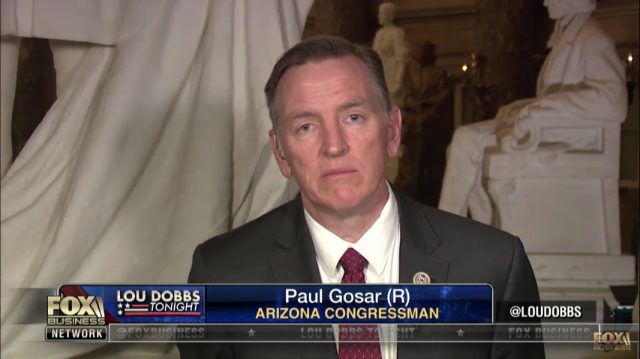 A Republican member of Congress wants Obama administration officials thrown in jail over the allegations contained in the controversial Nunes surveillance memo.
During a Thursday morning appearance on Breitbart News Daily, Representative Paul Gosar (R-AZ) was discussing President Donald Trump's first State of the Union address with Breitbart London editor Raheem Kassam. Near the end of the interview, Gosar and Kassam took it upon themselves to discuss the memo prepared by Representative Devin Nunes (R-CA).
This was orchestrated and it was used pervasively through the last administration, some of it even starting in the previous administration before that. We've got to get to the grips of this and we have to make [the] Justice [Department] accountable again. Nobody above the law, everybody equally applied to the law and don't misuse the law. This is scary stuff.
Kassam then asked, "In your opinion, is anybody going to jail over this?"
To which Gosar replied, "They better."
The much-anguished-over Nunes surveillance memo allegedly contains evidence showing abuses of the Foreign Intelligence Surveillance Act (FISA) by Obama and Bush era officials which ultimately led to untoward or unlawful surveillance of Trump and/or staff members with Trump's 2016 presidential campaign.
The as-yet-unreleased Nunes surveillance memo has greatly upset figures within the FBI, the Department of Justice, and the Democratic Party in recent days.
The FBI made the extraordinary decision to release a statement complaining that the Nunes surveillance memo could damage national security and additionally criticized its contents for containing "material omissions" which are believed to reflect poorly upon the FBI itself.
The Department of Justice has stressed its preference that the Nunes surveillance memo not be released as well, rubbishing its contents as not all that interesting while also complaining about a lack of collaboration with the U.S. intelligence community prior to the memo's anticipated release.
Adam Schiff (D-California), the ranking member of the House Permanent Select Committee on Intelligence (HPSCI), has alleged that Nunes provided the White House with a version of the memo that substantially differs from what the HPSCI actually voted to release.
[image via Fox News screengrab]
Follow Colin Kalmbacher on Twitter: @colinkalmbacher
Have a tip we should know? [email protected]