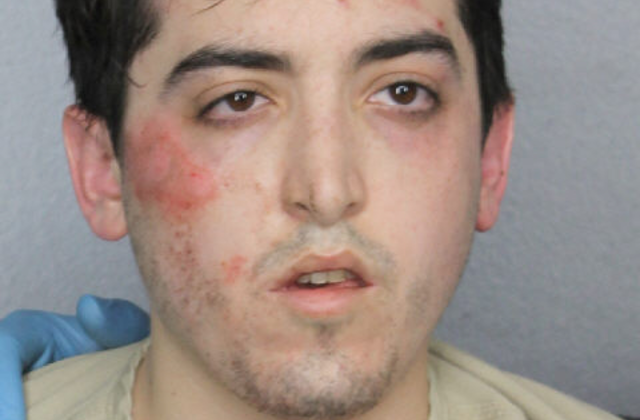 A federal judge decided that a man who stripped naked after committing a bank robbery shouldn't be held liable for his crime. Following a trial that lasted just 25 minutes, Chief U.S. District Judge K. Michael Moore ruled that Sperber was not guilty by reason of insanity.
In July, bystanders on Fort Lauderdale's Las Olas Boulevard were shocked as they saw a nude figure running down the sidewalk throwing money.
"And then this lady passed me and I asked her, 'Was he naked?'" Drew Armstrong, who witnessed the spectacle told WSVN. "And she's like 'Yeah, he was naked.'"
It turned out that the man was 25-year-old Alexander Hayden Sperber, who was fleeing the scene after robbing a bank. Just minutes earlier, he had entered a nearby Regions Bank branch, pointed his fingers as if to depict a gun, and demanded money from the bank teller. Sperber told the teller that he was armed and would hurt her and others if she didn't hand over the cash. Doing as she was told, the teller put about $4,700 into the bag he gave but also included a dye packet.
Once he was outside of the bank, the dye packet exploded, staining Sperber and the cash. That's when Sperber decided to get away in the most logical way he saw how — by stripping down and throwing the money into the street. Fearing for his mental health, he was taken to Broward Health Medical Center after being caught by the police. Sperber was found to be "conscious, coherent and uninjured,".
Authorities said Sperber told them he never meant to hurt anyone. According to the FBI, he told a special agent investigating the case that the stunt was simply a way to kick-start his career as a comedian.
Sperber was charged with one count of bank robbery. During his hearing, he asked his mom, Karina Sperber, if she had any medication. "I'm having a full-blown panic attack," he told her.
According to his lawyer, Michael Gottlieb,  Sperber had been studying computer engineering at a university but his education had to be cut short because of "unforeseen medical difficulties."
"This young man is in jail for the first time in his life," Gottlieb told the Sun Sentinel. "He needs to be hugged. He has no violent history."
He will however, remain jailed while receiving mental health treatment.
[Image via Broward County Sheriff's Office]
Have a tip we should know? [email protected]