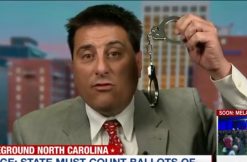 On Thursday, MSNBC anchor Hallie Jackson grilled Dallas Woodhouse, the executive director of North Carolina's Republican Party, on the GOP's alleged role in voter suppression. After saying his state created more early voting opportunities than blue states like New York, Woodhouse pulled out a pair of a handcuffs, and said these were for Hillary Clinton.
"We don't have a suppression vote problem in North Carolina. The Democrats have a depression problem, and you know why?" he said, and pulled out the cuffs in what turned out to be master-class in pivoting. "It's very simple. Their candidate, if elected, could have these on Inauguration Day."
"You're bringing props for our show here, Dallas?" Jackson said. "Is this the kind of rhetoric you want to be saying five days out from an election?"
NC GOP Party Exec Dir @DallasWoodhouse holds up handcuffs for @HillaryClinton on @MSNBC with @HallieJackson –> https://t.co/TUosR0sKam

— Frank Thorp V (@frankthorp) November 3, 2016
Woodhouse later cited the long-running allegations about Clinton's mishandling of official emails, and purported malfeasance of the Clinton Foundation.
In July, FBI Director James Comey announced he wouldn't recommend charges for Clinton's mishandling of the emails since "no reasonable prosecutor would bring such a case," although he said her actions were "careless." Focus on that apparently dead investigation was reignited last week, when he told elected officials that the FBI discovered emails possibly relevant to that case.
[Screengrab via MSNBC]
–
Follow Alberto on Twitter (@Alberto Luperon)
Have a tip we should know? [email protected]