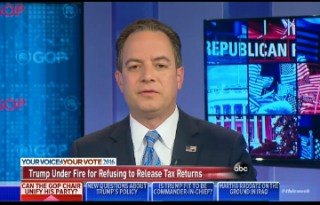 On Sunday, Donald Trump adviser Paul Manafort and Republican National Committee chairman Reince Priebus each spoke about Trump's failure to release his tax returns so far. Both men seemed to take a similar approach to the topics: hoping the American people don't care.
Manafort spoke to CNN's Jake Tapper about the tax issue, and said that Trump will release his tax returns, just like GOP candidates have in years past, but he's waiting for an IRS audit to wrap up first. When Tapper said that Trump once released tax returns to a gaming commission when he was looking to build a casino, Manafort switched gears, saying that only the media cares about this, and "it's not an issue that middle America is interested in."
Also on Sunday morning, Priebus went in a different direction with similar hopes in a conversation with ABC News. The RNC chair claimed that people view Trump as an outsider and said, "I don't think the traditional playbook applies," in reference to Trump turning over his tax returns. "It's going to be up to the American people. I mean, they're — they're going to have to decide whether that's a big issue or not." He seemed confident that they won't, saying, "People don't look at Donald Trump as to whether or not he releases his taxes."
So Manafort said Trump will follow the same customs as previous candidates and release his tax returns when he's ready, and Priebus said that the old way of doing things doesn't apply to Trump at all. But their common ground is the belief that when it comes down to it, the American people don't care.
But do they? An MSNBC poll from March of this year indicates that they do, as 73% of those polled said that Trump should make his tax returns public. Time will tell if Trump indeed listens to the people.
[Screengrab via ABC News]
Have a tip we should know? [email protected]