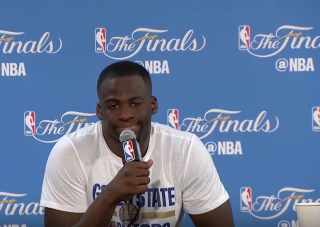 Golden State Warriors Draymond Green has been arrested on assault charges on Sunday in East Lansing, Michigan. Green was arrested early Sunday morning and his arraignment is scheduled for July 20th per ESPN.  The altercation reportedly involved a male victim. Green was later released on a $200 cash bond.
"We are aware of news involving Draymond Green in Michigan over the weekend. At this point, we are collecting information and will have no further comment until we have a better understanding of the situation," the Warriors said in their statement.
Draymond Green was a critical player for the Warriors during their championship run and their historic 73 win season. Green also played 4 years of college basketball for Michigan State, located in East Lansing. He has come under fire for his aggressive play on the court including hitting opposing players below the belt. Green was expected to represent the United States in the Olympic Games in Rio in August. As of now, Team USA has not released a statement about the incident.
Lawnewz will have updates this story as it progresses.
Have a tip we should know? [email protected]