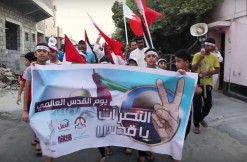 Four independent U.S. journalists were kicked out of the Kingdom of Bahrain on Tuesday after authorities accused them of helping so-called rioters. Led by Anna Therese Day, they were charged with "suspected offences including entering Bahrain illegally having submitted false information to border staff, and participating in an unlawful gathering," according to a statement by authorities.
By "unlawful gathering," they mean protests. Any gathering of more than five people is illegal in Bahrain, according to a 2014 report by Vice. This is an island nation just east of Saudi Arabia on the Persian Gulf. The journalists had been looking into anniversary of a 2011 uprising, in which the local Shiite Muslim majority pushed Sunni leaders for more rights, but protests turned violent. Tanks, rubber bullets and the like were unleashed by the government.
Unrest in Bahrain continues to this day, with activists often facing-off against riot cops. ABC reported that hundreds of local protesters were arrested Sunday during the uprising's anniversary.
As for the journalists, Bahrain's Interior Ministry alleged they didn't have the required media visas.
"At least some of the arrestees were in the country as members of the international media but had not registered with the concerned authority and were involved in illegal activities," the Ministry wrote in a statement. Worth mentioning: ABC reports that Bahrain is known to deny media visas ever since the 2011 uprising.
The statement also accused one of the journalists of "wearing a mask," and helping protesters attack cops.
Sherif Mansour, a coordinator for the Committee to Protect Journalists, said the arrests were a shame. "It is sad that the fifth anniversary of the protests is marked by the arrest of yet more journalists in Bahrain, which has since become one of the worst jailers of journalists in the Arab world," he said.
[h/t ABC]
[image via Vice screengrab]
–
Follow Alberto Luperon on Twitter (@Alberto Luperon)
Have a tip we should know? [email protected]