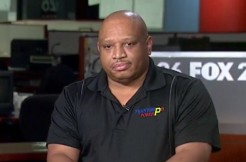 Are you behind on your student loans? Do you live in Houston, Texas? Then hold my hand because I have bad news. U.S. Marshals there are arresting people who are late on their federal college debt.
Fox 26 reported an anonymous U.S. Marshal source who said they're going to serve 1200 to 1500 warrants to people who are behind their federal student loans.
Then there's Paul Aker:
He told Fox 26 in a Monday report that feds with automatic weapons recently arrested him for a $1500 student loan from 1987, with allegedly no previous contact about his late bill. They reportedly took to him to court, "surrounded by seven marshals," with no legal representation, and no rights read to him. And the prosecuting attorney allegedly wasn't from the government, but a private debt collector.
U.S. Congressman Gene Green also spoke to Fox about this, explaining that private, student loan debt collectors are allowed to contract the feds for work.
"There's bound to be a better way to collect a student loan debt that's so old," he said about Aker's story.
–
Follow Alberto Luperon on Twitter (@Alberto Luperon)
Have a tip we should know? [email protected]