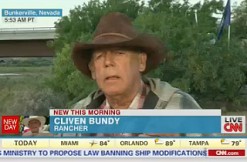 Cliven Bundy, a figurehead of the militia mess that went on in Oregon, is scheduled for a detention hearing on Tuesday. A judge will decide whether the 69-year-old rancher can go home while awaiting trial.
Prosecutors worry that if released, Bundy won't come back to court.
His charges, for which he was arrested last week—"conspiracy, assault on a federal officer, obstruction, weapon use and possession, extortion to interfere with commerce, and aiding and abetting" as reported by The Associated Press—come from a 2014 armed standoff against federal authorities in Nevada. Basically, he doesn't think the federal government should be a thing. The feds also say Bundy owes them over $1 million in fines because he let his cattle graze on public lands.
Disdain for the government runs in this family, with his sons Ammon and Ryan Bundy leading the occupation of the Malheur National Wildlife Refuge in Burns, Oregon. This began January 2 and essentially ended after their arrests, and the shooting death of militia spokesperson Lavoy Finicum on January 26. Four final holdouts stuck to the refuge, and only surrendered last week.
[h/t The Associated Press]
–
Follow Alberto Luperon on Twitter (@Alberto Luperon)
Have a tip we should know? [email protected]