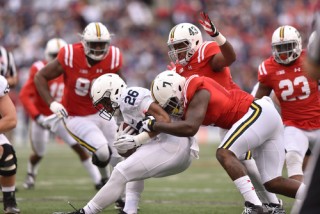 The NFL has been dealing with controversy over their handling of players' concussions, but the sport's troubles are not limited to the professional level. Former college football players are suing the National Collegiate Athletic Association, with six federal class action cases filed on Tuesday that claim the league and schools didn't properly address their injuries, CBS Sports reported.
The cases seek to represent people who played college football as far back as 60 years ago, up until 2010, which is when the NCAA instituted rules for schools to have plans for managing player concussions. Each of the six claims are against the NCAA and the athletic conference a player was in. Some of the claims are also against the individual schools, but certain state schools have sovereign immunity that protects them from liability. The website for the lead attorney in the cases, Jay Edelson, says that the league, conferences, and schools "ignored the dangers of concussions, failed to warn players of the risks, and encouraged players to return to play after suffering concussions." LawNewz.com reached out to Edelson for additional comment, and is awaiting a response.
The six schools connected to the allegations in the lawsuits are Penn State, Auburn, Georgia, Vanderbilt, Utah, and Oregon. The players claim that they suffered concussions while playing conditions including memory loss, depression, dementia, mood swings, sensitivity to light, and blackouts.
These cases come on the heels of a recent $75 million settlement the NCAA made for a previous concussion-related case brought by former Eastern Illinois player. Under that agreement, $70 million will go towards testing former and current players for brain injuries, and $5 million will go towards research.  In that case, a 2010 NCAA internal survey showed that half of the schools that responded didn't require players to see a doctor after getting a concussion, and almost half admitted to having players get back on the field in the same game.
Edelson told CBS that there are between 40 and 50 more class action suits that former players will file in the future. Edelson said the purpose of the new cases "is to get people who are injured financial compensation — something that hasn't happened as of yet."
The players are seeking compensation for past, present, and future medical bills, and punitive damages.
Have a tip we should know? [email protected]