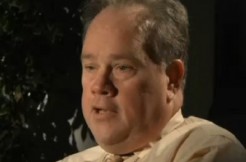 According to a lawsuit filed Wednesday, a South Carolina detective tried to force a woman into doing a strange nude video in exchange for help on a case.
The complaint alleges it went like his:
The woman reported a forcible rape in May, 2015, according to the lawsuit obtained by CBS 46. Detective Allen Large, of the Horry County Police Department, investigated, but a meeting at her home allegedly turned creepy. The girl says he called her "beautiful," and said he understood why her alleged rapist "could be turned on by her and unable to resist himself."
After telling her the case would likely go nowhere, she says he told her she should do this thing he had in mind: fistfight another naked woman while men videotaped them. She said no, and Large allegedly threatened her: He'd make it so she wouldn't visit her children anymore (she was in the middle of a custody dispute). Over the course of several months, Large allegedly bullied her with "threatening behavior and unwanted sexual advances."
The woman complained to the HCPD. She now claims the department knew about Large's behavior, and turned a blind eye to previous allegations.
Large was, in fact, fired in July 2015. Another lawsuit, filed in December, claimed he used his position to sexually assault another woman.
LawNewz.com contacted the HCPD, and await a reply.
–
Follow Alberto Luperon on Twitter (@Alberto Luperon)
Have a tip we should know? [email protected]