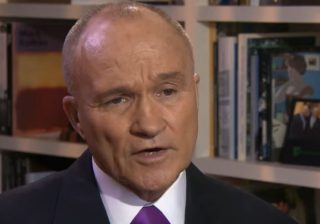 Former NYPD Commissioner Ray Kelly appeared on the Christmas edition of John Catsimatidis' radio show, "The Cats Roundtable," on Sunday, and discussed a number of beliefs he has regarding how New York City can best be kept safe in current times.
Late in the interview, Catismatidis, who unsuccessfully ran for mayor of the city in 2013, asked Kelly for his thoughts on the Obama administration's willingness to bring in refugees. Kelly said that he believes the administration is "well-intentioned" in bringing refugees into the country, but called for a strict vetting process before allowing people into the U.S. "We're going to need to devote additional resources to examining the backgrounds of individuals coming in, where they live, who their relatives are," Kelly said, saying the U.S. needs to take "a much deeper dive" into refugees' backgrounds.
Kelly also said that while crime has "generally been down" over the past two decades, he has seen an increase in murders in big city's. Kelly said lamented that this is because police officers have lately been "hesitant" to put their lives on the line, and called for more "proactive" policing in the coming year.
[Image via CBS screengrab]
Have a tip we should know? [email protected]