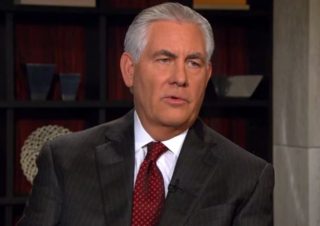 The Dallas Morning News ran a piece this weekend from a contributing writer who described her experience serving jury duty with Rex Tillerson. Emily Roden described Tillerson, Donald Trump's pick for the next Secretary of State, as a quiet man who served his civic duty without saying much, unless spoken to or when the time came to bring the jury to a unanimous decision.
Tillerson wore a suit to court, Roden recalled, but it wasn't until she and other jurors noticed him with a man who turned out to be a bodyguard, that anyone thought he might be of any significance. Finally, someone asked him what he does, and Tillerson replied that he works for Exxon Mobil, and had the bodyguard because not everyone approved of what he does. It wasn't until Roden did some additional research did she realize that she was serving with the CEO of the company.
What struck Roden most, more than Tillerson's dress, entourage, or demeanor, was his commitment to justice while serving on that case and after. The defendant was accused of sexually assaulting his girlfriend's daughter, and despite many jurors believing he was guilty, there were some holdouts. "As our deliberations came to a close, it appeared we might have a hung jury," Roden wrote. But then Tillerson presented his case to his fellow jurors. Trump's selection for head of the State Department discussed the facts of the case as he saw them, "[h]umbly, delicately and without an ounce of condescension toward those who disagreed."
The jury unanimously agreed to convict.
After the case was over, Roden followed up with the non-profit agency that helped the young victim in the case, and later emailed Tillerson and suggested he do the same. Tillerson responded to Roden's email and made a sizable donation to the organization.
Roden makes it clear in her piece that she is not endorsing Tillerson for Secretary of State, and says she did not vote for Trump. But after hearing talk of Tillerson being "corrupt," she felt it necessary to tell her story. Several days on a jury panel followed by an email and a donation cannot sum up who a person is, and certainly cannot give any insight into a person's ability to hold high government office. Nevertheless, with so much rhetoric and assumptions being lobbed across the political aisle, these glimpses can be valuable reminders that those with opposing views or controversial backgrounds can still have a desire to do what's right.
[Image via screengrab]
Have a tip we should know? [email protected]