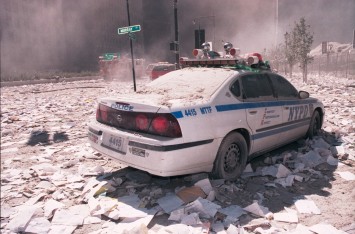 The release of the so-called "28 Pages" of documents from a congressional investigation into the 9/11 attacks puts an end to years of speculation about what was contained in the formerly classified documents.  As was widely believed, the documents do contained details about possible connections between some Saudi government officials and the 9/11 hijackers.  The information contained in the documents was uncovered in 2003 by congressional investigators through a review of FBI and CIA documents and reports.  A portion of the findings states that the congressional investigators "did not attempt to investigate and assess the accuracy and significance of the findings." Rather, the findings were simply passed on to the FBI and CIA for further investigation.  With that in mind, here is a list the major takeaways from the 28 Pages:
1).  FBI files suggest a man believed to be a Saudi intelligence officer may have provided substantial assistance to two of the hijackers in San Diego. 
A man whom some in the FBI suspected might be a Saudi intelligence officer named Omar al-Bayoumi reportedly met with hijackers Khalid al-Mihdhar and Nawaf al-Hazmi shortly after they arrived in the United States in February 2000.  Al-Bayoumi is believed to have helped the two hijackers find an apartment and even cosigned the lease agreement.  He also introduced them to other members of the Southern California Islamic community, including to a man named Modhar Abdullah who would help each of them obtain a driver's license and enroll in flight school.  Al-Bayoumi was believed to have received an allowance each month from a company affiliated with the Saudi Defense Ministry, although he rarely had to show up to work.  His monthly allowance increased around the time he met the hijackers through August 2001.
2). Princess Haifa Bint Sultan, the wife of then-Saudi Ambassador to the U.S. Prince Bandhar, sent monthly payments to a Saudi couple that may have been in contact with two of the hijackers. 
Osama Bassnan was a close associate of al-Bayoumi and possibly also had contact with al-Mihdhar and al-Hazmi.  The CIA uncovered evidence that Bassnan and his wife received regular monthly payments of $2,000 from Prince Bandhar's wife.  An FBI search of Bassnan's residence also uncovered copies of cashier's checks totaling $74,000 that were drawn on accounts belonging to Prince Bandhar's wife.  Bassnan's wife was supposedly paid for "nursing services" but the FBI found no evidence that she ever performed any nursing services.  Bassnan also received a $10,000 check from Prince Bandhar's account in 1998.
3). Investigators found U.S.-based phone numbers linked to a Saudi diplomat in a safe house where Abu Zubaydah was captured. 
When U.S. forces captured Abu Zubaydah in 2002, they discovered his phonebook with U.S. phone number that was traced to a residence in McLean, VA.  The FBI believed the residence was owned by an unnamed individual who worked as a bodyguard at the Saudi embassy in Washington, D.C.  Although, a subsequent FBI report stated that the CIA had found "no direct links" between Zubaydah's phone book at U.S. phone numbers.  This revelation might shed light on why U.S. officials were so eager to obtain information from Zubaydah.  As we now know, he was the only "black site" detainee who was subjected to all 10 enhanced interrogation techniques.
4).  A Saudi Interior Ministry employee/official stayed at the same hotel in Herndon, VA where some of the hijackers stayed in September 2001.
FBI documents state that an individual named Saleh al-Houssayen stayed at the same hotel in Herndon, VA where hijacker al-Hazmi was staying in September 2001.  Although he claimed not to know the hijackers, FBI agents believed he was being deceptive during an interview after 9/11.  The interview ended suddenly when al-Hussayen "either passed out or feigned a seizure requiring medical treatment."  He was taken to a hospital but checked out a few days later, managing to leave the United States despite FBI efforts to re-interview him.
5). FBI agents and CIA officers complained to the congressional committee about a lack of cooperation from Saudi Arabia in terrorism investigations, even after 9/11. 
The documents state multiple FBI agents and CIA officers complained about the lack of cooperation from their Saudi counterparts in terrorism investigations both before and after 9/11.  One New York FBI agent told the committee that the Saudis have "been useless and obstructionist for years" and would "only act when it is in their self-interest."  Another high-level officer said he believed greater cooperation from the Saudis in the summer of 2001 might have helped prevent the attacks.  In May 2001 the U.S. asked for help from the Saudis in locating an unnamed individual that was most likely aware of upcoming attacks.  The Saudis, however, refused to act unless the U.S. revealed additional information that would've compromised sources and methods.  This was described as a "typical response" from the Saudis by some FBI personnel.  The CIA had also been warning about a lack of Saudi cooperation with Usama Bin Laden since at least 1996.
READ the '28 Pages' HERE:
28 Page 9/11 Declassified by LawNewz on Scribd
Have a tip we should know? [email protected]