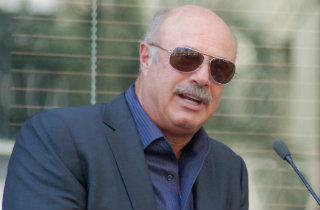 On Tuesday, we first told you that Dr. Phil McGraw, best known as the host of the eponymous "Dr. Phil" TV show, as well as his wife Robin, filed a $250 million defamation lawsuit against American Media, the parent company of The National Enquirer, Star Magazine, and Radar Online. In the complaint, the McGraws allege a decade-plus pattern of behavior targeting them, including writing salacious stories and defaming them on multiple occasions. That apparently hasn't deterred American Media's various publications from continuing to publish negative stories on Dr. Phil. In fact, it seems they are now in all out attack mode against them.
Since we last left you, Radar Online has posted a grand total of six Dr. Phil articles in just four days, with the most inflammatory story, which was dubbed an exclusive, rehashed on their other websites including  Star and the Enquirer, which are primarily print publications. As you can probably guess, they're not very flattering.
Radar's "World Exclusive" from Thursday was headlined "'Monster' Dr. Phil Accused Of Molesting Young Patient — Read The Bombshell Documents." The other stories all include a list of past Dr. Phil bombshells. There was even a story about LawNewz founder Dan Abrams analyzing Dr. Phil's "uphill" battle on Good Morning America while wearing his other hat as ABC News Chief Legal Analyst.
The "Monster" story is the one getting the most attention, but it's also not entirely new: The quotes from Dr. Phil's accuser, Sara Morrison are identical to those cited by the Enquirer in a 2009 article. It appears that the only thing new is the documentation that American Media has secured to back up Morrison's claims: Parts of Dr. Phil's 1988 disciplinary proceedings and a 1990 letter showing that he had completed a required professional ethics course.
The document uploaded by Radar is missing the first page and has some pages out of order (we've fixed the latter problem and uploaded a resequenced copy to our Scribd account). While framed as a smoking gun, it does not address Morrison's allegations that Dr. Phil sexually molested her.  Instead, what Radar posted only references the inappropriateness of Morrison having served in a dual role as a patient and paid intern.
Yes, there was a disciplinary issue. Yes, it was surrounding a relationship between the two that was deemed "inappropriate" by the Texas Board Of Examiners of Psychologists. And yes, Dr. Phil was ordered to pay for a second therapist to supervise him. However, the documents don't say anything about any kind of sexual misconduct allegations.
A spokesperson for Dr. Phil had previously told the Enquirer that "[Morrison's] claims are not only untrue, they were thoroughly investigated by the board more than 20 years ago, found to be without merit, and summarily dismissed." The Enquirer added that "However, that's not true," citing the documents and Morrison's interview, but, as noted above, the paperwork cited by the article say absolutely nothing about Dr. Phil making improper sexual advances.
LawNewz has submitted a public records request to the Texas Board Of Examiners of Psychologists in an attempt get the full records. That should make it clear whether or not the sexual misconduct allegations were addressed at Dr. Phil's disciplinary proceedings. Until then, make sure to read American Media's stores about Dr. Phil carefully, because it appears as if there's a bit of slight of hand going on to obscure what they're actually saying.
Have a tip we should know? [email protected]