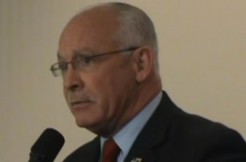 Wayne Simmons used to make regular appearances on Fox News as a security expert, and get lucrative government contracts in Afghanistan and elsewhere. Sweet gigs. That what was all thanks in part to his purported 27-year career in the CIA. But that career was a lie. On Friday, Simmons, 62, was sentenced to 33 months in federal prison, according to a New York Daily News report.
Simmons pleaded guilty in April to major fraud against the government, wire fraud, and a firearms offense. After he filed his plea agreement, U.S. Attorney Dana J. Boente said in a Justice Department statement that he had no military or intelligence experience.
He admitted to 1) lying about his financial, professional and criminal history to get government work; 2) cheating one woman out of $125,000 in a real estate scam; and 3) possessing two firearms despite being a felon. (He'd been convicted once in Maryland, and twice by the federal government for prior charges.) As for the CIA link, he admitted there was no evidence he'd ever done work for the agency.
Nonetheless, Simmons continued to insist that he really did work for the CIA.
"It does not matter that I thought my special skill sets could save lives in Afghanistan," he said at Friday's hearing, according to the NYDN.
U.S. Senior Judge T.S. Ellis III called the CIA claim "buffalo chips."
–
Follow Alberto Luperon on Twitter (@Alberto Luperon)
Have a tip we should know? [email protected]