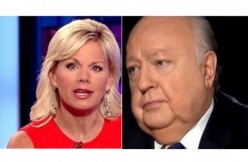 Attorneys for Fox News CEO Roger Ailes have filed a motion for Gretchen Carlson's lawsuit to be moved to an arbitration panel in Manhattan. According to the petition filed Friday in a New York federal court, Ailes' attorneys said Carlson's lead counsel, Nancy Erika Smith, shouldn't have filed the case in New Jersey because no violation of NJ law allegedly happened. They also contend Carlson tried to avoid arbitration by only suing Ailes, not Fox; and said Carlson and Smith stepped over boundaries when they publicly criticized Ailes in the media.
Smith "has made statements going well beyond the ambit of what might be protected by the litigation privilege," they wrote. Not only that, but Carlson's public comments allegedly violated the terms of a confidentiality agreement.
Ailes' attorneys Susan Estrich and John Quinn explained the petition in a statement obtained by LawNewz.com.
Gretchen Carlson's attorney has led a concerted smear campaign to prejudice the rights of Roger Ailes in this case. Her attempt to game the system so as to avoid the arbitration clause for her client's baseless allegations is contrary to law and unsupported by the facts. Accordingly, we have taken the following action today: We have filed papers in the federal court in Manhattan to compel the arbitration of Carlson's claims in New York City at the American Arbitration Association, as required by her Employment Agreement. At the same time, we have asked the federal district court in New Jersey to transfer the case to federal court in Manhattan, where it can be consolidated with the case we filed today. The court in Manhattan is the proper place to compel arbitration because (1) Carlson worked at Fox News in New York City, (2) her employment agreement requires arbitration in New York City, (3) she has based her claims solely on New York City law and (4) neither she nor Mr. Ailes resides in New Jersey.
Now Ailes' lawyers want the case to face a three-member arbitration panel in Manhattan. Smith fired back in a statement obtained by LawNewz.com.
"After invoking jurisdiction of the New Jersey federal court and filing a motion there, Mr. Ailes decided that he doesn't like the judge assigned to this case and he illegally is attempting to judge shop by now seeking to move the lawsuit to another jurisdiction," she wrote. "We feel confident that the law will not allow such maneuvering."
She filed a motion on Friday afternoon to keep Carlson's lawsuit in the New Jersey court system. Spokespeople said she will also file a motion on Monday that "objects to Ailes' illegal and inappropriate judge shopping."
Carlson sued former employer Roger Ailes on July 6 after her contract wasn't renewed. She claimed Ailes sexually harassed her numerous times, and stymied her career when she stood up for herself.
Smith has talked about the case publicly, saying her client sued to get Ailes to take "personal responsibility," according to The Washington Post.
We've embedded three documents below. First, you can read Ailes' petition, then the related memo of law below that. Third, we've included Carlson's motion filed to oppose the petition.
Memo of Law by LawNewz on Scribd
Carlson brief against Ailes petition by LawNewz on Scribd
Update — July 15, 6:54 p.m. EST: Updated with a statement from Smith, included above.
Update — July 15, 8:26 p.m. EST: Embedded a motion that Carlson's lawyers filed on Friday. It is included above.
Update — July 16, 8:00 p.m. EST Fox Spokesperson released a statement included below:
"We're trying to get this to the court where it belongs – if anything, Gretchen Carlson's lawyer was attempting to judge shop by having this heard in her comfort zone of state court in Bergen County, where neither Roger nor Carlson reside."
–
Follow Alberto Luperon on Twitter (@Alberto Luperon)
Have a tip we should know? [email protected]