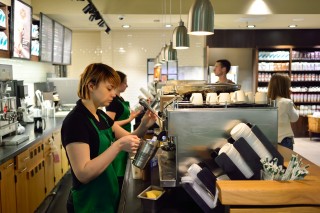 A federal judge has decided that two Starbucks customers may pursue a lawsuit against the coffee megachain for reportedly underfilling their lattes.  The judge, Thelton Henderson, of the U.S. District court in San Francisco decided that two California plaintiffs may pursue a lawsuit against Starbucks.
Starbucks has been accused of overcharging their customers by systematically serving lattes are 25% too small based on a recipe that the chain adopted in 2009.  The plaintiffs, Siera Strumlauf and Benjamin Robles, state that Starbucks requires its baristas to use a pitcher that has 'fill to lines' in order to save milk.  According to Strumlauf and Robles, the 'fill to lines' are too low and leave about 1/4 of an inch empty in their drink cups.  They believe that this method shorts customers because the drink cups for the Starbucks sizes, Tall, Grande, and Venti, hold exactly 12, 16 and 20 ounces respectively.
"This is not a case where the alleged deception is simply implausible as a matter of law. The court finds it probable that a significant portion of the latte-consuming public could believe that a 'Grande' contains 16 ounces of fluid," wrote Judge Henderson according to Reuters.
While Henderson allowed the case, he did not comment on its merits.  He already dismissed 3 of the 8 counts that the plaintiffs have brought against Starbucks.
In a statement, Starbucks spokesman, Reggie Borges, said that the company believes that the lawsuit is without merit and is prepared to defend itself agains the claims.  He also added that if a customer is not satisfied with how the drink is made, Starbucks will "gladly remake it," according to Reuters.
The case is Strumlauf et al v. Starbucks Corp, U.S. District Court, Northern District of California, No. 16-01306.
Have a tip we should know? [email protected]