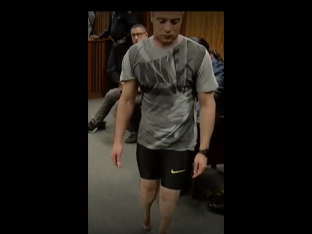 Oscar Pistorius removed his prosthetic legs during his sentencing hearing last week in a move that his defense lawyer believed would demonstrate how helpless and scared he was on the night he shot and killed his girlfriend, Reeva Steenkamp.  The shocking video can be seen below, but this comes as reports indicate that the Pistorius Family has been the target of extortion threats.
According to the Associated Press, a man using WhatsApp contacted one of Pistorius' cousins with an extortion scheme in which he claimed he could provide evidence that would undermine the prosecution's case.  Once the man realized he would not be getting payment, he reportedly became abusive towards the family and threatened to have Pistorius assaulted in prison.
This development comes on the heels of last week's courtroom spectacle that The New York Times described as a "trembling and tearful" Pistorius warily walking towards the bench without his prosthetic legs.
WATCH:
The Times reports that "Mr. Pistorius's defense lawyers had asked him to take off his prosthetic legs to highlight the sense of vulnerability they say he felt when, acting out of fear and confusion, he fatally shot his girlfriend."
As for the extortion attempts, police are reportedly aware of the matter.
This is not the first time Pistorius has been the target of an extortion investigation, according to the AP. Earlier this year, a man tried to approach Pistorius posing as a government official and offered to make this the matter go away for about $16,400.  That man was arrested in a police sting operation.
Have a tip we should know? [email protected]