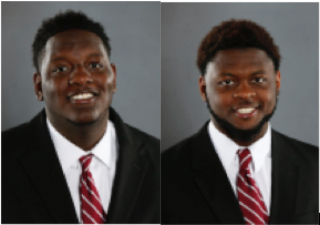 The District Attorney's Office of Ouachita Parish, Louisiana has declined to prosecute two Alabama Crimson Tide football players, Cam Robinson and Laurence "Hootie" Jones.
"I want to emphasize once again that the main reason I'm doing this is that I refuse to ruin the lives of two young men who have spent their adolescence and teenage years, working and sweating, while we were all in the air conditioning," District Attorney  Jerry Jones said to KNOE TV.
According to the police report, an officer approached the players' car and smelled marijuana.  The report also alleges that a handgun and a bag of marijuana were in plain sight and an additional stolen handgun was under the passenger's seat.  Robinson was reportedly driving the car, while Jones was in the passenger's seat. Robinson was originally arrested for possession of a controlled dangerous substance and illegal possession of a stolen firearm.  Jones was arrested for possession of a controlled dangerous substance.   The original arrest took place in mid-May and a court date was set for last week before being delayed by today's news.
Robinson and Jones had both been heavily recruited by the University of Alabama. Robinson, an All-SEC selection last year, has started every game since his freshman year.  He is also expected to be a high draft pick in next year's NFL draft.  Jones has spent most of his time as a backup, but was rated as one of the best safeties in his high school class.
Alabama coach Nick Saban has yet to decide on a punishment for the players as he wanted to gather more information on the arrests before making a decision.
Have a tip we should know? [email protected]