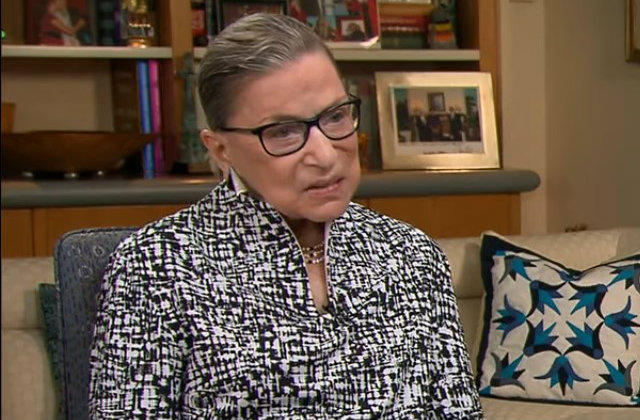 In a rather rare move, federal judge Laurence Silberman wrote an op-ed critical of former colleague Ruth Bader Ginsburg. They used to work together on the U.S. Court of Appeals for the DC Circuit, at least until "the Notorious RBG" got confirmed to the Supreme Court in 1993.
Silberman said she's been way too open about her political views this past election season. Not a good look for a judge, he says. In a Friday article for The Wall Street Journal, he said she shouldn't have publicly criticized then-candidate Donald Trump, or supported Supreme Court nominee Merrick Garland in an interview with The New York Times.
"Now I will admit that Merrick Garland is a dear friend and I thought him the best Democrat nominee," he wrote. "But judges are ethically bound not to state a public position for or against a pending nominee to a federal court. At that point, it's a political question. The Supreme Court is not technically bound by the Code of Conduct for United States Judges, but the justices have said they would conform to the same standards."
Silberman also said Ginsburg shouldn't have suggested how Justice Elena Kagan (who recused herself from Fisher v. University of Texas), or the late Antonin Scalia (who died before U.S. v. Texas) would have ruled. Silberman says the media as a whole, which he claims leans liberal, push judges toward a "result-oriented" approach to rulings.
A former Acting Attorney General in the Ford administration, he also criticized the Justice Department for its handling of the Hillary Clinton email investigation. He pointed out Attorney General Loretta Lynch's problematic meeting with Bill Clinton, and the fact she didn't fully recuse herself from an investigation. He also criticized FBi director James Comey announcing "essentially, the prosecutorial decision regarding the email investigation."
"Prosecutorial decisions are made by the Justice Department's criminal division and the U.S. attorneys, supervised by the deputy attorney general and the attorney general—and if the decision is not to prosecute, it is made without public criticism of the target," he wrote.
[Screengrab via CBS]
Have a tip we should know? [email protected]