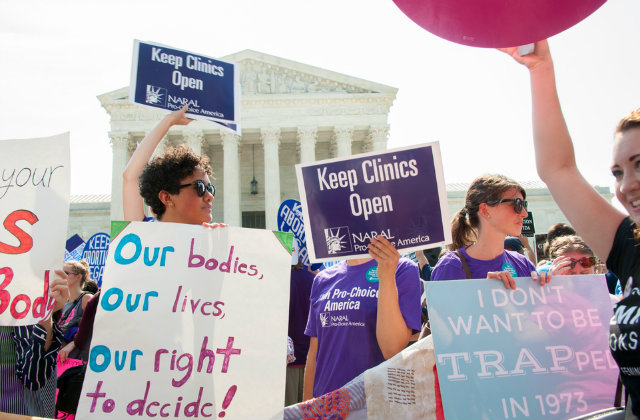 WASHINGTON (AP) — A federal appeals court on Tuesday cleared the way for a 17-year-old immigrant held in custody in Texas to obtain an abortion.
The full U.S. Court of Appeals for the District of Columbia Circuit ruled 6-3 that new dates should be set for the teen to obtain the procedure. The ruling overruled a decision by a three-judge panel of the court that at least temporarily blocked her from getting an abortion. The Trump administration could still appeal Tuesday's decision to the Supreme Court.
The teen, whose name and country of origin have been withheld because she's a minor, is about 15 weeks pregnant. She entered the U.S. in September and learned she was pregnant while in federal custody in Texas.
She obtained a state court order Sept. 25 permitting her to have an abortion. But federal officials have refused to transport her or temporarily release her so that others may take her to have an abortion.
Lawyers for the Department of Health and Human Services, which is responsible for sheltering children who illegally enter the country unaccompanied by a parent, have said the department has a policy of "refusing to facilitate" abortions and that releasing the teenager would require arranging a transfer of custody and follow-up care.
The teenager's lawyers have said all the government needed to do was "get out of the way." An attorney appointed to represent the teen's interests has said she could transport her to and from appointments necessary for the procedure, and the federal government would not have to pay for it.
A federal judge, U.S. District Judge Tanya Chutkan, had sided with the teen and set dates for the procedure last week, saying it should take place Friday or Saturday, but the government appealed and the three-judge panel of the appeals court blocked the abortion from occurring then. The panel ruled 2-1 on Friday that the government should have until Oct. 31 to release the teen, so she could obtain the abortion outside government custody.
On Tuesday, the full appeals court returned the case to Chutkan, saying she was now "best suited" to set new dates.
Under Texas law, a woman seeking an abortion must have a counseling session 24 hours before the procedure with the doctor who will perform the abortion. The teen had been allowed under an order from Chutkan to attend that session last week.
But Susan Hays, legal director for the Texas group Jane's Due Process, which is assisting the teen with obtaining an abortion, said the teenager will likely need to undergo a new counseling session with the doctor who would perform an abortion. That counseling session could be scheduled for as soon as Tuesday afternoon, with the abortion on Wednesday, depending on when the district court issues a new order allowing the abortion to go forward, Hays said.
The Department of Health and Human Services didn't immediately comment on the ruling.
___
Associated Press reporter Nomaan Merchant in Houston contributed to this report.
___
Follow Jessica Gresko on Twitter at http://twitter.com/jessicagresko
[Image via Rena Schild and Shutterstock]
Have a tip we should know? [email protected]