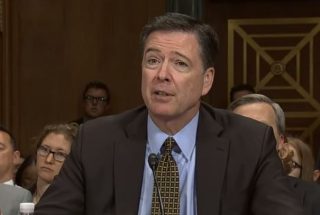 At a hearing in front of the Senate Judiciary Committee last week, FBI Director James Comey testified that former Hillary Clinton aide Huma Abedin had a "regular practice" of forwarding "hundreds and thousands" of emails to her husband Anthony Weiner's laptop for printing, some of which contained classified information. Now, however, sources at the FBI say that this is inaccurate, according to a report by ProPublica.
Sources told the publication that in reality, Abedin had only forwarded a small amount of Clinton emails, and did not make it a regular practice. Other sources said that many of the documents could have ended up there as a result of Abedin's Blackberry's backup process.
The FBI is reportedly weighing their options for how to handle the situation. They reportedly considered sending a letter to Congress on Monday to correct the record, but decided against it.
Comey first made the discovery of potential evidence on Weiner's computer known on October 28, days before the November election. Clinton has gone on record blaming "intervening events" in the last days before the election, including Comey's revelation, for her loss. At last week's hearing, Comey defended his decision, saying that while making the information public was bad, keeping quiet would be "catastrophic."
Have a tip we should know? [email protected]