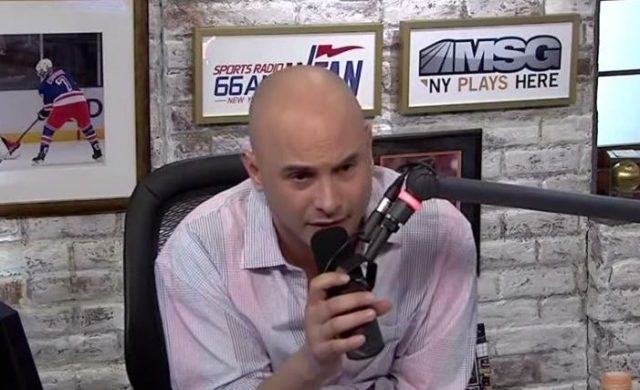 Federal agents arrested sports talk radio personality Craig Carton at his New York City home Wednesday morning on charges related to an alleged multi-million ticket scam. The co-host of "Boomer and Carton" on WFAN is accused of acting with another person, allegedly running a fake ticket brokering business, NBC4 reported. The operation allegedly robbed investors of millions of dollars.
A U.S. Attorney's Office spokesman told the local outlet that Carton is charged with wire fraud and securities fraud.
According to WPIX, the ticket business claimed to have access to blocks of tickets, but Carton allegedly didn't have such access, and no tickets existed. A spokesperson for CBS Radio, which owns WFAN, told the television station, "We are aware of the situation and are cooperating with authorities."
Carton has hosted WFAN's morning show alongside NFL great Boomer Esiason for the last 10 years, taking over for Don Imus, who was fired after making a racially charged remark about the Rutgers women's basketball team.
Esiason opened the show Wednesday morning saying that Carton had called out sick. "My partner decided 'I don't want to show up this morning 'cause I don't feel good,'" he teased, only learning the truth later on.  Esiason closed Wednesday morning's show saying he expects more news to come out. "I look forward to hearing that news, as many of you do," he said.
[Image via screengrab]
Have a tip we should know? [email protected]