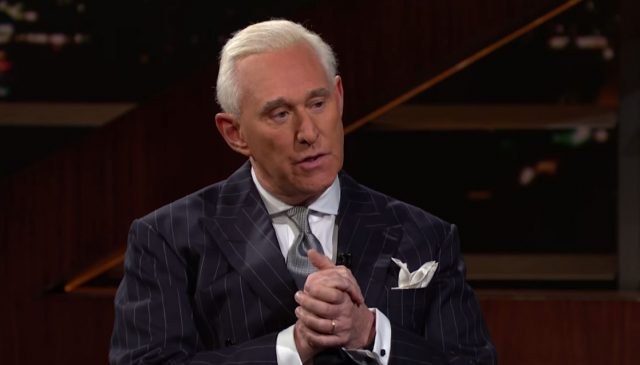 Back in July, a former staffer with the Democratic National Committee and two donors filed a lawsuit against President Donald Trump's campaign and former Trump adviser Roger Stone, blaming them for their personal information being released to the public after DNC computer systems were hacked. On Tuesday, Stone pushed back with court filings of his own, calling the lawsuit "meritless and filed for sensational and politically partisan reasons."
The lawsuit alleges that Stone, the Trump campaign, and the Russian government engaged in a conspiracy, whereby Russian actors hacked the DNC in exchange for benefits. As a result of the hacking and subsequent release of materials by WikiLeaks, the personal information (including social security numbers) of donors Roy Cockrum and Eric Schoenberg were made public, and emails of former DNC staffer Scott Comer got out, leading to his grandparents discovering that Comer is gay.
Stone's attorneys claim that the case should be dismissed for a number of reasons, arguing that the allegations against him are baseless with no real evidence behind them. The motion says "the complaint does not allege the who, what, where, and when of Stone's involvement in any conspiracy." It also claims that the lawsuit doesn't specify what kind of "benefits" Stone and the Trump campaign allegedly provided to any Russian actors.
Despite claiming that Stone conspired with the Trump campaign and Russian actors to hack the DNC and spread information through WikiLeaks, they do no provide any evidence of who Stone allegedly conspired with, how the hacking took place, or what role Stone had in it, Stone's lawyers argue. "Alleging Stone conspired with Russians is as broad and as absurd as saying he conspired with Americans," Stone's motion says. "In fact," the court filing says, "the parties with the most technical information about what might have happened are conspicuously not a party to this action – the DNC and the 'Russians.'"
Additionally, Stone's lawyers argue that the D.C. federal court where the plaintiffs filed their complaint doesn't have jurisdiction over the case or Stone, claiming that Cockrum, Schoenberg, and Comer didn't suffer any injury that could be attributed to him, and that Stone does not live in D.C and none of the alleged harm took place there.
The filing says that while Stone may be an "agent provocateur," his work as a "political strategist, pundit, and commentator," is not against the law.
On that note, Stone filed a separate motion to dismiss, under a Washington D.C. law that protects people from lawsuits based on "advocacy on issues of public interest." That motion calls out United to Protect Democracy, who are representing the plaintiffs. The organization is a collective of former White House lawyers focused on bringing legal actions that hold President Trump and the Executive branch accountable for their actions. In that motion, Stone's lawyers called United to Protect Democracy "a group of admittedly liberal attorneys … still smarting that their preferred candidate for president lost the election." The filing says that the organization has "a political agenda," created the narrative of the case "out of thin air," and sought out the plaintiffs so they could carry out their own investigation.
Stone said in a statement to LawNewz, "This bogus and baseless harassment lawsuit is essentially a fundraising device device for this Obama front organization."
A spokesperson for United to Protect Democracy told LawNewz, "We are reviewing the motions and will respond in due course, but we are confident in our claims. We stand by the strength of the suit and by the courage of the plaintiffs to stand up for their legal rights."
This article has been updated with a response from United to Protect Democracy.
Stone Motion to Dismiss – rule 12 by LawNewz on Scribd
Anti SLAPP motion to dismiss by LawNewz on Scribd
[Image via HBO screengrab]
Have a tip we should know? [email protected]