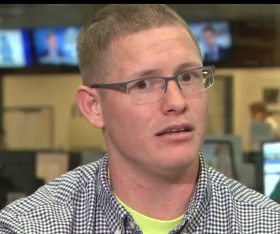 The Colorado Secretary of State's office on Wednesday referred Electoral College "faithless elector" Micheal Baca to the state Attorney General, requesting an investigation to be opened into whether possible criminal charges are appropriate.
In a statement obtained by LawNewz.com, Deputy Secretary of State Suzanne Staiert said Mr. Baca took an oath to vote for the presidential candidate who won the popular vote in Colorado, only to then "cast a ballot contrary to the oath."
In her letter to the Colorado AG's Office, Staiert called Baca's actions a violation of C.R.S. 1-4-305(5), which provides:
Each presidential elector shall vote for the presidential candidate and, by separate ballot, vice-presidential candidate who received the highest number of votes at the preceding general election in this state.
Hillary Clinton won Colorado's nine Democratic electors and all cast their votes for the former Secretary of State when they arrived on Monday at the Colorado State Capital, all except for Mr. Baca.
Baca's Ballot can be viewed here: 
Michael Baca Elector Ballot by LawNewz on Scribd
Instead of following requirements provided under the law, Staiert alleges that Mr. Baca wrote in Ohio Gov. John Kasich on his Electoral College ballot on Monday.  As a result of his failure to comply with the statute, a court order was obtained Monday from a Denver District Court judge to replace Baca with an alternate elector who voted for Clinton.
The process to replace Baca is spelled out in C.R.S. 1-4-305(1), which allows for the removal of electors who "refuse to act" . . . or for "other cause."  The statute further provides in the event of an elector is removed or a "vacancy" is created, "the [remaining] presidential electors present shall immediately proceed to fill the vacancy in the electoral college" and then proceed with their duties under the law, i.e., casting ballots for the winner of the statewide popular vote.
Baca seemingly knew the potential risks of his action.  According to Stairt, all electors were warned prior to casting their ballots that they could face misdemeanor charges for failing to cast their ballot for Clinton.   Additionally, he gave an interview back in November he spoke with local media and promised to vote against Clinton in the hope of blocking Donald Trump.
WATCH:
Although, he has not spoken out since the announcement today from the Secretary of State's Office that he may face charges.
[image via screengrab].
Have a tip we should know? [email protected]