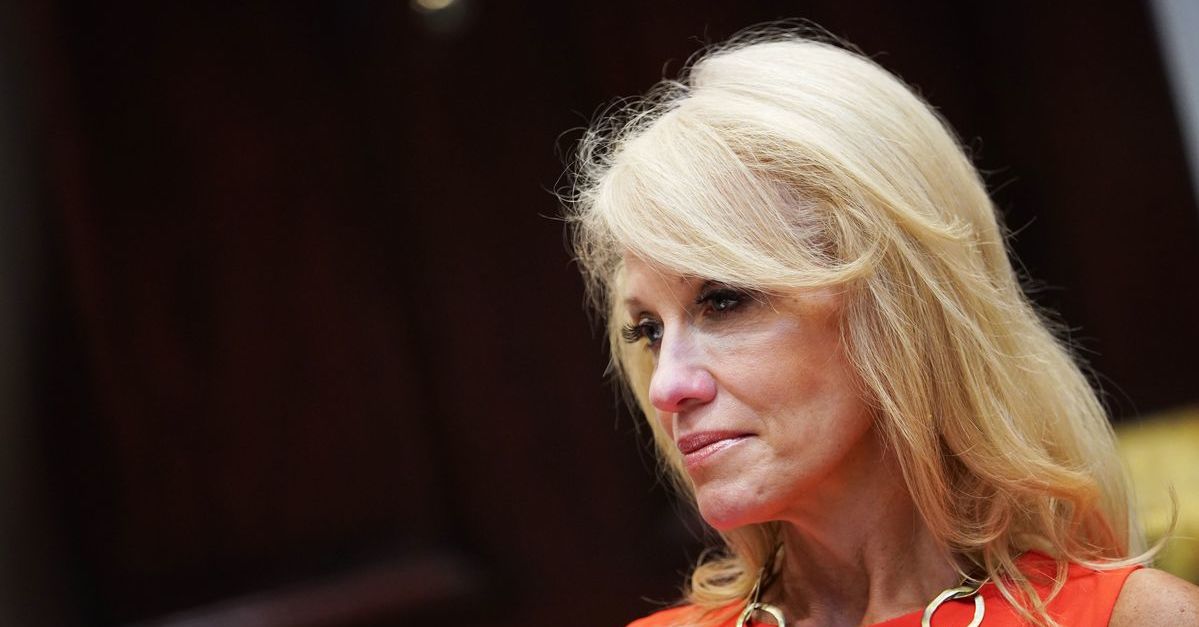 The latest revelations in the Paul Manafort saga could signal that Special Counsel Robert Mueller has his sights set on White House adviser Kellyanne Conway.
Recall: Improperly redacted Tuesday court filings by Manafort's attorneys revealed that the former Trump 2016 presidential campaign chair is believed to have shared polling data with Russian political consultant Konstantin Kilimnik related to and during the 2016 presidential election.
Mueller's office alleges that Kilimnik is a spy connected to the Russian Federation's military intelligence bureau or other Russian intelligence agencies. The widely held implication here is that Manafort was therefore directly working with a foreign intelligence agency to secure then-candidate Donald Trump's victory against Democratic Party nominee Hillary Clinton.
Such an implication was recently telegraphed by former federal prosecutor Elie Honig.
"The campaign chair is the campaign. The campaign was sharing polling data with someone known to be connected to Russian intelligence," Honig told a panel on CNN's New Day on Wednesday. "Is it collusion in the everyday non-legal sense before Rudy Giuliani started using the word? Sure. What could be more collusive than the top guy in a campaign with a Russian operative giving him the most sensitive data a campaign has?"
So, where exactly does Conway fit into all of this?
David Measer is an advertising and communications expert who currently works as the senior vice president at the RPA agency and as a University of Southern California professor in the school of communications. The professor recently shared his thoughts on the Manafort news in a lengthy and viral Twitter thread:
I'm just an advertising guy, but thought I'd put a marketing lens on the news of Manafort sharing "polling data" with a Russian operative. Seems benign in the grand scope of everything, right? It's not.
"At the heart of any campaign, big or small, is data," Measer tweeted on Wednesday morning. "Data about the market, people, the competition. In politics, this is called 'polling.' Same thing."
The thread continued across multiple tweets:
Sharing polling data with anyone is opening a door to collaborate with them. It's allowing them to use your raw materials, your valuable resources, your manpower. It's like arms dealing, except the weapons can't be tracked because no one knows they're explosive except for the collaborators. Sharing polling data means you're working together. Conspiring. Making decisions together. Working to destroy the competition. Imaging [sic] for a moment if Apple and Microsoft collaborated on pooling their data resources in an attempt to bring down Samsung…
That's not quite the entire story, however, because the scenario described above between Apple and Microsoft wouldn't necessarily entail anything explicitly criminal. Measer then added in one further wrinkle.
"To continue the analogy, imagine that Apple and [Microsoft] then together hacked into Samsung's servers and stole some of their proprietary data, in the form of emails about their data," he wrote. "Then it'd be game over."
Measer then brought it all back to the latest Manafort news–and quickly pointed a finger at Conway:
[I]f you've got Manafort sharing valuable and proprietary data with a Russian intelligence operative, and you've got a Russian hacking operationg [sic] stealing the competition's (the DNC's and the Clinton campaign's) data…then you've got it all. Everything you need to destroy the competition. Not so benign anymore. You know who knows a lot about this? @KellyannePolls — someone should ask her.
Law&Crime repeatedly reached out to the White House and Conway for comment on this story, but no response was forthcoming at the time of publication.
[Image via MANDEL NGAN/AFP/Getty Images]
Have a tip we should know? [email protected]