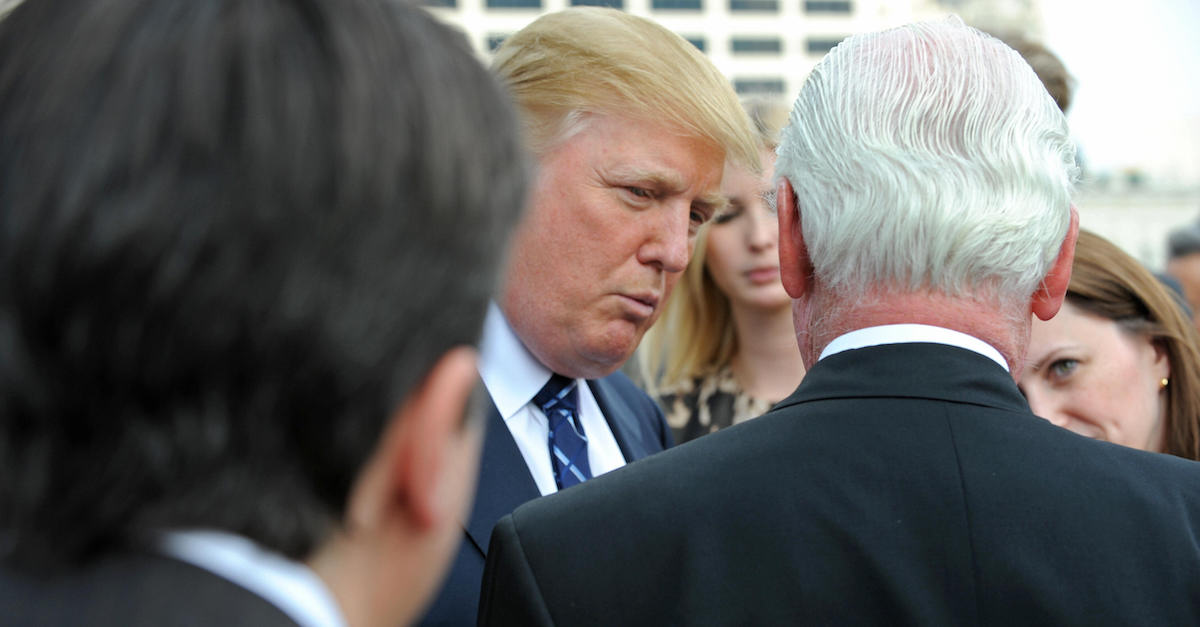 Everything we've seen up to now on the FBI's raid of Chicago Alderman Ed Burke (D) over alleged attempted extortion indicates that the Bureau's investigation has nothing to do with President Donald Trump. The only reason Trump's name has come up in the first place is that Burke's law firm Klafter & Burke, until somewhat recently, did tax work for Trump and the Trump Organization.
Burke saved Trump upwards of $14 million on the Trump International Hotel & Tower Chicago's property taxes. Burke and Trump had a "break up" in June 2018 after 12 years of doing business, the Chicago Sun-Times noted. However, recent history and other active investigations that do involve Trump suggest that federal prosecutors could use Burke against Trump the way they used ex-Trump attorney Michael Cohen against Trump in the Southern District of New York.
From the Sun-Times' editorial board, after news of the allegations against Burke spread:
We can understand why so many people suspect the FBI's Thursday raid on the offices of Ald. Edward M. Burke was tied to the Justice Department's investigation of President Donald Trump. After all, the powerful 14th Ward alderman was Trump's lead lawyer for years in challenging property-tax assessments for his downtown skyscraper, Trump Tower Chicago, and Cook County's property tax system is widely believed to favor the rich.

But trust us. It ain't that.

When we look a little more closely, it's abundantly clear the feds aren't looking into Burke because of Trump. At least not for now.
Notice that they leave open the possibility that this case could be made to involve Trump down the road.
Burke was first elected to the Chicago City Council in 1969 and has been a mainstay ever since. He also happens to be married to a state supreme court justice. Burke has been accused of attempting to extort Burger King owners who were seeking building permits to retain his law firm in exchange for said permits. The Chicago Tribune described the allegations this way:
Prosecutors say Burke tried to extort the location's owners after they sought remodeling permits for the Archer Heights location in 2017. The complaint, filed Thursday in federal court, also alleged Burke asked one of the company's executives — identified only as Individual A — to attend a political fundraiser for "another politician" that same year. The executive couldn't attend because of bad weather but "felt it necessary" to donate $10,000 to the politician in order to keep Burke happy, according to the charges.
Burke maintains that he is innocent and intends to cooperate fully.
"As you are aware, there have previously been several other investigations such as this. In every instance we cooperated fully. And in every instance nothing has been found," he said. "So once again we will be cooperating fully, and I am completely confident that at the end of the day nothing will be found amiss in this instance, either."
Still, a federal judge permitted the FBI to wiretap Burke's cell phone in 2017 and the feds apparently recorded calls in the months leading up to the alleged attempted extortion plot. The question is: how deep will this FBI probe on Burke dig and how cornered might they make him feel? As things stand, if Burke is convicted he faces a maximum of 20 years behind bars.
Haven't we seen this story before — sort of?
Former federal prosecutor Renato Mariotti, who worked in U.S. Attorney's Office for the Northern District of Illinois (the jurisdiction of the case against Burke) for nine years, recently addressed the topic of whether Trump could be in any danger here.
Mariotti was clear that the charges against Burke are "unrelated" to Trump. "The only way this could impact [Trump] legally is if Burke flipped and offered information on Trump's businesses." Cough, cough, Michael Cohen — but also cough, cough, Trump Organization CFO Allen Weisselberg. We'll come back to Weisselberg in a moment.
As Mariotti explained, if prosecutors were to pursue Trump through Burke there would be issues of attorney-client privilege to contend with, but as we saw with Michael Cohen, the crime-fraud exception exists. When pressed for valuable information in exchange for a lighter sentence, Cohen (and Trump, too) stopped fighting about privilege and Cohen gave SDNY prosecutors what they were looking for.
Cohen would say that Trump "directed" him to commit campaign finance violations for the purpose of influencing the election. Then there's Weisselberg, the Trump Organization executive given immunity by prosecutors in the Cohen case.
Weisselberg was the man Cohen and Trump mentioned in a recording regarding the Karen McDougal hush payment. This was another example of prosecutors leveraging one person's criminal liability to achieve other ends, namely to get to Cohen to get to Trump.
Theoretically, prosecutors could try something similar with Burke by getting him to flip on Trump — of course, presuming that there is something to flip about — in exchange for a lighter sentence. If something untoward went down in Chicago involving Burke and Trump, federal prosecutors there could share this information with federal prosecutors in New York, where both the SDNY and the New York Attorney General are homing in on the Trump Organization.
Federal prosecutors have now asked for an extension of up to 90 days to indict Burke.
Editor's note: this article was updated after publication with additional information on the status of the investigation.
[Image via Amanda Rivkin/AFP/Getty Images]
Have a tip we should know? [email protected]