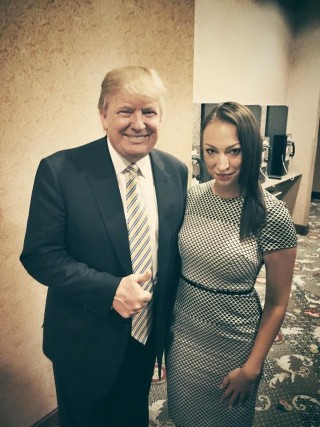 A former Donald Trump staffer has now accused the campaign of sex discrimination in pay. 26-year Elizabeth Mae Davidson who was fired earlier his year said that men doing the same job as her on the campaign trail were being paid more money. She also contends that men doing the same jobs were allowed to plan and speak at rallies, while her requests were ignored, according to The New York Times.  The complaint was filed with the Davenport, Iowa Civil Rights Commission.
Davidson worked as a field organizer in Davenport, Iowa.  In the complaint, Davidson says that during a rally Mr. Trump told her "You guys could do a lot of damage." (referring to her physical image)
Trump denied making the remark during a phone call with The New York Times, and said that Davidson must just be a disgruntled employee.  He also told Bloomberg news that he'd heard "some very strange reports about her. She goes around dressing like Melania, my wife."
Davidson says she was paid $2,000 a month — according to records obtained by the New York Times – men who held the same title, were paid $3,500 to $4,000 a month. In the complaint, Davidson reportedly says she was fired for making "disparaging comments about senior leaders to third parties" and violating a non-disclosure clause.
[h/t New York Times, NY Daily News, image via Davidson Facebook]
Have a tip we should know? [email protected]
Rachel Stockman - President / On Air Host