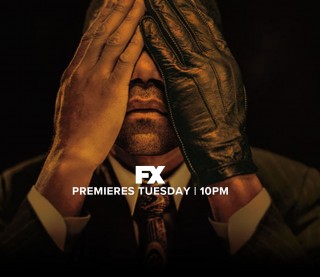 The series opens with a montage of the Rodney King riots, then cuts to a "Two Years Later" slide, where the O.J. Simpson story begins. "The People v. O.J. Simpson: American Crime Story" puts racial tensions right at the very forefront, which is why its creators expect it will strike a chord with viewers some two decades after the murders and trial that captured the American public.
The limited 10-episode series, to premiere on FX on February 2nd, boasts a star-studded cast including Cuba Gooding Jr. as Simpson, Sarah Paulson as prosecutor Marcia Clark, David Schwimmer as Simpson friend Robert Kardashian and John Travolta and Courtney B. Vance as defense attorneys Robert Shapiro and Johnnie Cochran.
It is based on the book "The Run of His Life, The People v. OJ Simpson," by and senior legal analyst for CNN and New Yorker Staff Writer Jeffrey Toobin, a former prosecutor.
Toobin consulted with the show's writers and producers and spoke to all of the actors in advance of the series filming.
"It reflects the case brilliantly in that it deals with these somber and important subjects like race and violence," Toobin told LawNewz.com, "The story has everything that obsesses the American people: race, celebrity, sex, Hollywood, sports, and the only eyewitness is a dog, so the complete combination of all those characteristics just made the story what it was."
While the trial played out live in many people's homes courtesy of Court TV and a handful of other early cable news outlets, Toobin says most people still don't know the whole story.
His book and the series focus on the behind-the-scenes story about the lawyers and their winning, and losing, strategies.
"This is a story about the rival teams of lawyers and what they experienced and what they thought about the case and how they succeeded or failed in putting forth their approaches to the case," Toobin said.
It's not a new story, but Toobin believes it's more relevant now than ever.
"The themes of use and misuse of race in law enforcement, coming on the heels of Ferguson and other cases, it just feels very fresh and relevant," he said.
"American Crime Story's" premiere comes amidst continued buzz about another crime series: the Netflix docu-series "Making a Murderer." While at first glance the case of convicted murderer Steven Avery of Wisconsin bears no similarity to that of Simpson, Toobin draws parallels.
"Obviously race isn't a factor in Making a Murderer, but class certainly is," says Toobin. "Both Making a Murderer and the OJ Case show that criminal law is a mirror to the broader society in that all the good parts and bad parts of our society are reflected in how we treat people that are charged with crimes."
Here is a trailer from the series:

"The People v. OJ Simpson: American Crime Story" premieres February 2nd at 10pm ET on FX.
Stacey Delikat is a journalist and contributor at LawNewz.com. She is also a reporter for Fox 5 in New York City.
Have a tip we should know? [email protected]
Stacey Delikat - On Air Host