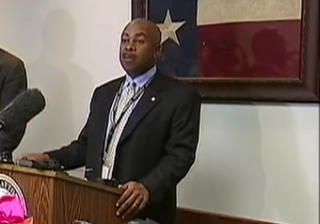 A former chief investigator for the Dallas County District Attorney's office admitted to taking a bribe from a defendant in exchange for helping to get charges against the person dropped. The agreement was part of a plot that went on for eight months.
Anthony L. Robinson pleaded guilty on Tuesday to conspiracy to bribe or reward an agent of an organization receiving federal funds. The bribe was masked as an investment in a cattle business.
According to court documents, Robinson's scheme started on September 2012, when his office had him go to Las Vegas to bring someone back to face charges. Robinson told the man, identified in court records as W.S., that he was interested in the cattle business, and W.S. said he was wealthy and would go into business with him if he helped get the charges dropped. They entered into a business agreement, W.S. deposited $200,000 into a joint account, which Robinson later withdrew money from to give to his wife. Robinson convinced an Assistant District Attorney to dismiss the case against W.S. in May 2013.
Robinson could serve up to five years in prison, in addition to a $250,000 fine.
Anthony L. Robinson, former Dallas County DA chief investigator, factual resume by JasonTrahan
Have a tip we should know? [email protected]