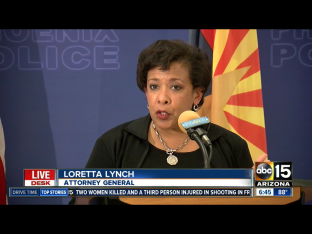 US Attorney General Loretta Lynch reportedly met privately with former President Bill Clinton on Monday evening on board her aircraft at Phoenix's Sky Harbor International Airport.  The meeting comes amid the ongoing FBI investigation into Clinton's use of a private email server and will almost certainly be a concern to those already skeptical of political influence playing a role in the probe.
KNXV ABC 15 reports the former president arrived at the airport on Monday evening to depart from a stop in the Phoenix area when he was informed the Attorney General was en route to the airport.  Clinton then reportedly decided to wait for her arrival and the two met privately for approximately 30 minutes on board her aircraft.
Attorney General Lynch was asked about the meeting during a press conference and she confirmed the meeting did take place.
"I did see President Clinton at the Phoenix airport as he was leaving and spoke to myself and my husband on the plane," the Attorney General said at a press conference on Tuesday, according to KNXV. "Our conversation was a great deal about grandchildren, it was primarily social about our travels and he mentioned golf he played in Phoenix."
An unattributed quote in the report that appears to also be from Attorney General Lynch indicates they did not discuss the FBI investigation.
There was no discussion on any matter pending before the Department or any matter pending with any other body, there was no discussion of Benghazi, no discussion of State Department emails, by way of example I would say it was current news of the day, the Brexit decision and what it would mean.
Let's be honest, no one expects the Attorney General to come out and admit speaking to the former president about the ongoing investigation — if they did actually discuss the topic.
The entire episode truly reflects more on the former president than anyone else.  Regardless of his intentions, he should know better than to put himself or the Attorney General in such a position with the investigation reportedly still ongoing.  This is especially true considering all reports indicate Hillary Clinton has somehow managed to avoid being questioned by FBI agents conducting the probe.
Simply put, it just looks bad.
This is an opinion piece. The views expressed in this article are those of just the author.