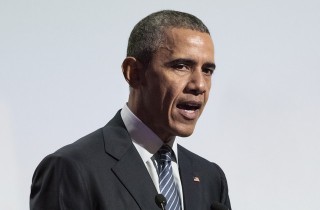 Bilal Shehu, a New Jersey man, pleaded guilty today in federal court to helping funnel $80,000 in contributions to a 2012 joint fundraising committee to reelect President Barack Obama, according to the U.S. Department of Justice.
According to his plea agreement, Shehu admitted to getting the money from a foreign source and giving it to the joint fundraising committee, including Obama's authorized campaign committee. Apparently, the foreign national, who was not named by the U.S. Attorney's office, went with Shehu to a October 2012 campaign event in San Francisco. The foreign national attempted to gain entry into the event, but was denied. However, he was allowed to be photographed with Obama.  Federal law prohibits foreign nationals from donating to U.S. campaigns or PACs.
The U.S. Attorney's Office noted that the joint fundraising committee has not been accused of any wrongdoing and has fully cooperated with the investigation.  Shehu pleaded guilty to knowingly and willfully making foreign contributions and donations in connection with the 2012 presidential election. His sentencing is scheduled for October 5, 2016. LawNewz.com is reviewing the plea deal, and will update this post accordingly. 
Have a tip we should know? [email protected]
Rachel Stockman - Editor in Chief / On Air Host