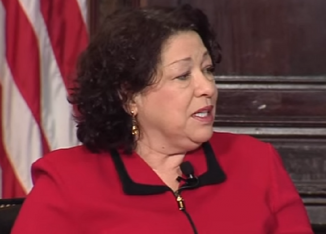 A Supreme Court case that could ultimately impact the fight over the NFL's Washington Redskins name and trademark rights took an interesting turn on Wednesday when Justice Sonia Sotomayor attempted to make a point, using President-elect Donald Trump as an example.
Justice #Sotomayor asks what happens if someone tried to trademark "#Trump is a thief" in case over offensive marks https://t.co/qc9EKk7PzC pic.twitter.com/EkhaLTW83j

— Andrew Chung (@andrew_chung_) January 18, 2017
"But your argument earlier was that if someone slanders or libels an individual by saying . . . Trump is a thief . . . that even if they go to court and prove that that's libel or slander, that trademark would still exist  . . . because canceling it would be an abridgment of the First Amendment?" Sotomayor asked.
"I believe that is correct," the band's attorney replied.
Justice Sotomayor responded, "That makes no sense."
The comment came in a case involving a rock band that failed to obtain a trademark on the name "The Slants" because the U.S. Patent and Trademark Office deemed the phrase offensive to Asians.
The band argues the prohibition amounts to a violation of the First Amendment because the government was allowing viewpoint discrimination.
According to reports, the justices seemed to agree with the band's attorneys that the USPTO was engaging in viewpoint discrimination, but the struggle seemed to comedown to whether such acts could be deemed appropriate to prevent the trademarking of offensive slurs.
The government relied on a provision of a 1946 law that prohibits the trademark of terms that may disparage other people.
In 2015, a federal appeals court ruled the provision of the law was an unconstitutional prohibition on free speech.
The Court's decision in this case is expected to have a huge impact on the Redskins' case, which is currently on hold, pending the outcome of this case.
[image via screengrab]
Have a tip we should know? [email protected]