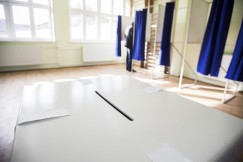 The New Hampshire primary is well under way, and the South Carolina and Nevada primaries will follow soon thereafter, but the Massachusetts primary is implicated in a new report over an exclusionary primary voting registration mistake.
Massachusetts Secretary of State William Galvin has expressed concern that up to 20,000 citizens may have incorrectly registered to vote in the primary. In Massachusetts, registering as "unenrolled" is much like registering as an independent in other states. However, it appears many would-be voters have conflated the two.
The mistaken registrations are likely a by-product of voters who intended to register as "unenrolled," but instead registered for the United Independent Party. Here's the catch: the United Independent Party is a party without a participating candidate, and a party that was specifically created for attorney Evan Falchuk's 2014 Massachusetts Gubernatorial candidacy.
Unenrolled voters may choose which party they would like to cast a vote for on primary day. An individual registered for a party can only vote for a candidate in that party. Since the "United Independent Party" does not have a candidate running, up to 20,000 Massachusetts residents may have mistakenly registered themselves out of primary voting.
Check your party enrollment before tomorrow's deadline to change: https://t.co/g1xroLhd7B #mapoli pic.twitter.com/JPi3CcjEqp

— Mass. Elections Div. (@MrVoterReg) February 9, 2016
"Unfortunately, voters who may not be that sophisticated, when they see the word 'independent,' think they're independent, they can do whatever they want," Galvin told WBUR. "Which, if they were a true unenrolled independent, they could, but not a member of [Falchuk's] party. So we're trying to fix it as best as we can."
Wednesday is the last day for Massachusetts voters to register to cast a ballot, which means voters have one day to make the switch and ensure they can vote in the Massachusetts primaries on March 1.
Voters can register, or change party affiliation, at any local election office, Registry of Motor Vehicles location, or online. The Secretary of State has details on the Massachusetts primary voting process on his website.
Did this happen to you? Did you try to register as an independent and instead mistakenly register with the "United Independent Party"?
If so, let us know in the comments or reach out to me directly at [email protected]
[h/t WBUR]
Have a tip we should know? [email protected]