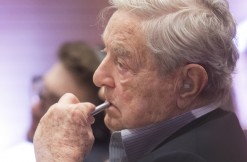 When most people get fired, they suck it up, and look for a new job. One accused hacker seems to have handled it differently. David Kupratis, 31, used to work for George Soros, the philanthropist, business guru, and big ol' liberal. After the computer whiz was canned from Soros' Open Society Foundations, he allegedly stole $50,000, authorities said Tuesday.
The hacking scheme reportedly stemmed from 2014, according to his indictment which was filed in Monmouth, NJ. Kupratis reportedly assumed the identity of two people on Aug. 31, and stole a laptop and cellphone from another on Sept. 11. Then he allegedly got to leeching the organization's funds.
While working for Soros, he was a network administrator before getting fired for "lost data," according to court documents. The OSF itself is a philanthropic group, dedicated to stuff like human rights causes, education, and government accountability.
"We are cooperating with the authorities on this case as it works its way through the legal system," said OSF director of public affairs, Lura Silber.
Kupratis has a bit of a criminal record after being charged in 2013 for allegedly stealing $500 in cash as well as two credit cards. Now he's in jail, facing charges of two counts of identity theft, one count of computer tampering, and two counts of petit larceny.
[h/t NY Daily News]
–
>> Follow Alberto Luperon on Twitter (@Alberto Luperon)
Have a tip we should know? [email protected]