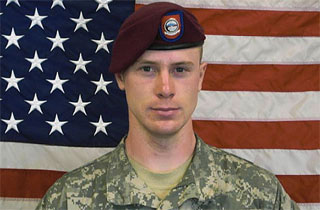 When it comes to disgraced former soldier Bowe Bergdahl, Donald Trump–no surprise–does not mince words.  Trump has called for the ex-soldier's execution, called him a '"no-good" and "dirty rotten" traitor. Just to name a few. And now Bergdahl's attorneys are considering whether to call Trump as a witness during Bergdahl's upcoming court-martial. They claim that Trump's disparaging statements could influence the jury in the ex-soldier's criminal case. This raises some interesting legal questions that the judge will have to consider.
The former Taliban prisoner is expected to go on trial later this year, and a Trump appearance would come at the heart of the presidential campaign season.
"We've made no decision yet on whether to call Mr. Trump as witness. We continue to monitor his defamatory statements," Bergdahl's lawyers told Bloomberg's Josh Rogin.
Berghdal was released from a Taliban prison in 2014 as part of a prisoner exchange for five Talibans members who were being held at Guantanamo Bay. In March, he was charged with desertion and endangering the safety of a command under the Uniform Code of Military Justice.
Bergdahl's lawyers contend that because Trump is a media fixture, the presidential hopeful is creating an unfair disadvantage for their client.  However, it is not clear if the legal maneuver by Bergdahl's attorneys will be successful.
"The statements could have the impact of potentially inflaming or chilling the jury," Floyd Abrams, a well-known constitutional attorney told LawNewz.com, "But I can not conjure up any basis for having Mr. Trump testify."
Bergdahl's attorneys are also using Trump's statements as a basis for  motion to compel the release of a pre-trial report, which reportedly would help the ex-soldiers case. Berdhal's attorneys say that report would help clear the air for their client, and give him a better shot at a fair trial.
If the court grants Bergdahl's motion to have a hearing on the issue, Trump could potentially be called to testify. If he refuses, a judge could always subpoena him. That said, Trump has rarely turned down an opportunity to speak.
[h/t Bloomberg]
Have a tip we should know? [email protected]
Rachel Stockman - President / On Air Host