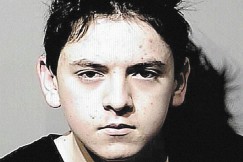 A mother testified Wednesday that her dead husband had been training their son for a zombie apocalypse. Eldon Samuel III, 16, is on trial for murdering his father and little brother two years ago. He reportedly confessed, but is still fighting the charges, though Idaho is charging him as an adult.
Samuel's mom, Tina Samuel, testified that her older son's upbringing was strange, violent, and sad. She said the father of their children, Eldon Samuel Jr. (they'd separated), was an abusive survivalist who taught their sons to be prepared for the weirdest reason. "[My older son] was trained to be ready when the zombies came," Tina Samuel said on the stand.
She said the family was always moving before she and Samuel Jr separated. Over 20 times by her count. Mostly, they got evicted because of unpaid rent. For her part, she admitted her drug problems also got in the way.
Then the marriage broke down, and she said she moved to California while the father brought the kids to Coeur D'Alene, Idaho, where the murders would happen.
Samuel Jr. brought his sons on many camping trips, teaching them to shoot guns, and cut the heads off rattlesnakes for fun. And then there were the zombie movies. They reportedly watched lots of zombie movies.
A video game employee testifying at the same trial read receipts that included The Walking Dead video game, which the family brought. (The prosecutor didn't like the focus on violent games, and pointed out some of their other purchases were family friendly.)
But in Mar. 2014, Samuel III allegedly shot and killed his father, 46, and stabbed his little brother, 13, dozens of times. A pediatrician, who also testified Wednesday, said that he told her he'd eaten one meal a day while living with dad.
Samuel III's attorney, John Adams, said his client should have the right to plead not guilty by reason of insanity, which Idaho bans. But for the meantime, the 16-year-old faces a life sentence.
[h/t KXYL, mugshot of Eldon Samuel III via Inlander]
–
>> Follow Alberto Luperon on Twitter (@Alberto Luperon)
Have a tip we should know? [email protected]