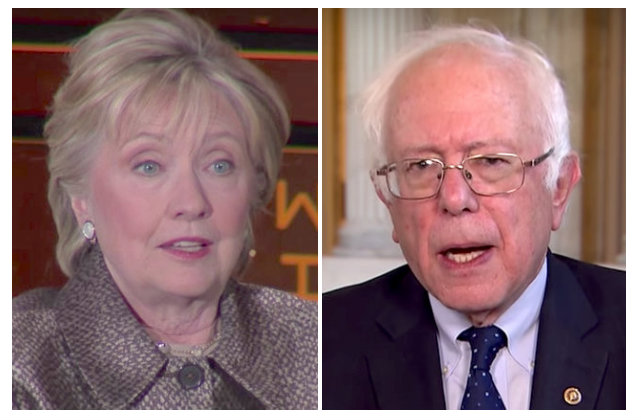 A class-action lawsuit by Bernie Sanders supporters against the Democratic National Committee is getting pretty quotable. Plaintiffs accuse the defendants of being biased on behalf of former Secretary of State Hillary Clinton during the 2016 presidential campaign. But one DNC lawyer's argument actually tries to justify the party's right to be biased on behalf of one primary candidate over another, according to an article from The Young Turks. In other words, they could have chosen their nominee over cigars in a backroom. That's what the attorney reportedly said in a Florida federal court:
We could have—and we could have voluntarily decided that, Look, we're gonna go into back rooms like they used to and smoke cigars and pick the candidate that way. That's not the way it was done. But they could have. And that would have also been their right.
The same lawyer also argued that there is "no contractual obligation" to prevent advantage or disadvantage between candidates, and that the evenhandedness and impartiality language in the DNC charter is not "self-defining." The court would be dragged into a political matter, and wouldn't be able to constitutionally offer redress for the claims.
The DNC did not respond to comment by press time, but we will update when they do.
Jared Beck and Elizabeth Lee Beck, both Sanders supporters, sued the DNC in June 2016 over the alleged bias for Clinton at the expense of their preferred candidate, an Independent U.S. Senator who ran for the Democratic Party's presidential nomination.
Article 5, Session 4 of the DNC's charter says that the National Chairperson "shall exercise impartiality and evenhandedness as between the Presidential candidates and campaigns," and shall make sure officers and staff also play fair during the nomination process.
Chairwoman Debbie Wasserman Schultz resigned from her post in July 2016 after emails obtained by WikiLeaks suggested that she and other DNC officials were dismissive, and even antagonistic against the Sanders campaign.
[Screengrabs: Hillary Clinton via Women in the World, Bernie Sanders via CBS]
Have a tip we should know? [email protected]