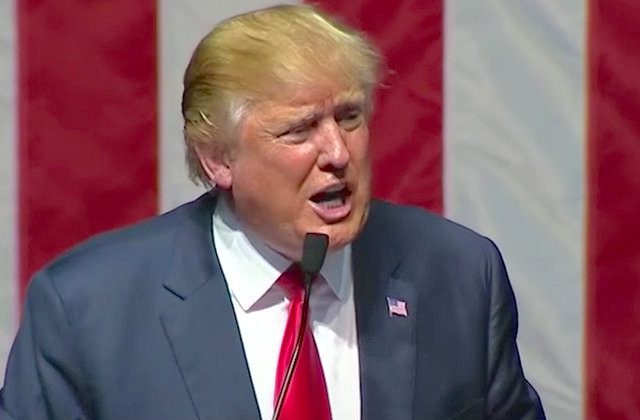 New York State just made a statement to Congress, the Republican Party, and pretty much the rest of the country: "If you guys aren't going to handle this disaster, we are." On April 26, 2017, New York State Assemblyman David Buchwald (D –Westchester) and State Senator Brad Hoylman (D –Manhattan) announced the introduction of A.7462/S.5572A — legislation that, if passed, would require the New York State Department of Taxation and Finance (NYSDTF) to release income tax information and returns for statewide elected officials, including the President of the United States.
I have to admit –- as a [now relocated] New Yorker, I love this bill. It's got all the bravado I expect from the Empire State, it's going to seriously annoy 45 and his sycophantic minions, and it's going to sail through the legislature. And while there's no question that the bill was borne of deeply-divided partisan politics, its actual effect isn't remotely partisan. In fact, it makes government better and more transparent for all of us, without regard for party affiliation or ideological convictions. Fantastic.
I am especially amused by the procedure the bill implements; it doesn't require the politicians themselves to do anything. It simply requires the NYSDTF to post the most recent five years of New York State tax returns to its website within 30 days of an elected official taking the oath of office. Personal information, like social security numbers and such, will get redacted – but the financial information will be there for all to see. New York State has no jurisdiction, of course, over what happens with federal tax returns – but in the particular case of Donald Trump, state returns may be just as enlightening.
I had the opportunity to speak today with Assemblyman David Buchwald, one of the bill's co-sponsors. "High-ranking public officials owe a duty to the public to show that tax proposals help the public more than they help themselves personally," Buchwald said. It's pretty tough to argue with universal appeal of financial transparency – and those who have made recent habit of excusing President Trump's lack thereof are finding formidable opponents in Albany.
State Senator Hoylman explained: "If lawmakers in Washington won't force President Trump to release his tax returns, lawmakers in Albany should do it instead.  We have a unique opportunity to advance the cause of presidential tax transparency. New Yorkers deserve to know if statewide officials – including Trump – pay their fair share of their taxes and avoid conflicts of interest."
Trump apologists are bound to raise arguments regarding a (non-reproductive, of course) "right to privacy" or some other inane reason why it's a great idea for 45 to keep his personal finances secreted away from the probing eyes of those familiar with the concept of "conflicts of interest." Sadly for them, though, Assemblyman Buchwald just happens to be a tax law expert; from what I can see, he has set this bill up for success.   "There is no inherent right to keep tax filings private," Buchwald explained, "historically, income taxes used to be public dating back to the Revenue Act of 1924."
Add up the right to secrecy (which doesn't actually exist) and the public's interest in ensuring the integrity of its elected officials (which actually does), and you've got the roadmap for this bill passing whatever judicial scrutiny happens to come its way. New York State has every right to direct its tax department to operate however it likes, and because this law only applies to the filings of public officials, no private person has standing to challenge it. Furthermore, Governor Cuomo,  Senator Schumer, and Senator Gillibrand have already posted their tax returns online – and it would be political suicide for any lesser elected official to publicly oppose the bill.
In the legislature, Buchwald and Hoylman already have plenty of support for the idea that financial disclosure is necessary to preserve the public trust. State Senator Daniel Squadron commended Buchwald and Hoylman:
"Presidential candidates release their tax returns so the American people know they are focused on job number one — serving the country in a role with extraordinary power. Donald Trump's refusal speaks volumes about his values, but does not give the public or the press the most important information about his conflicts and incentives. New York can solve that."
The overwhelming majority of Americans—80%, according to one recent survey—agree with the underlying purpose of this bill; still, House leaders in Washington wouldn't even allow a vote on the bipartisan Presidential Transparency Act , which would have required President Trump to release his returns.  That's the kind of problem that needs fixing.
If any state is uniquely suited to take on Donald Trump, it's New York. New York knows Donald Trump, and New York isn't going to back down on this one – certainly not when its own officials have already publicized their own tax information. There's something delicious about the very state that provided the Trumps the opportunity to rise to celebrity and wealth being the same state to teach them that "public service" comes with actual responsibility to actual people.
[Image via CNN screengrab]
This is an opinion piece. The views expressed in this article are those of just the author.
Elura Nanos - Columnist & Trial Analyst, Law & Crime; CEO Lawyer Up