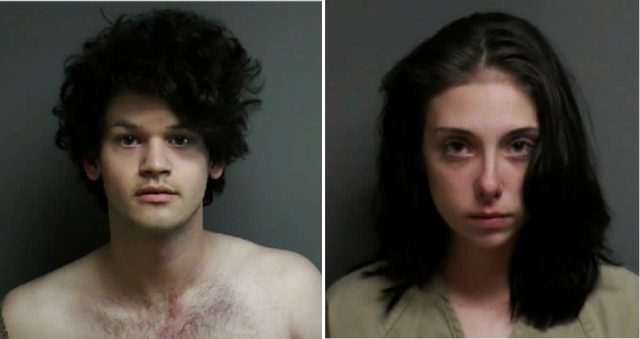 DETROIT (AP) — Two people were arraigned Friday on charges related to the slaying and mutilation of an acquaintance who went missing last year but whose body parts were found just this week in a shallow grave and a vacant field north of Detroit.
Macomb County Sheriff Anthony Wickersham and Prosecutor Eric Smith announced charges against 19-year-old Andrew Fiacco and his 18-year-old ex-girlfriend, Eevette MacDonald, a day after Stephen McAfee's remains were found. Fiacco is accused of killing McAfee, while MacDonald is accused of helping him afterward.
McAfee, 19, last was seen on March 10, 2016, at his Macomb Township home. His family reported him missing three days later.
"Over the next weeks and months, detectives interviewed multiple family and friends, and followed up on numerous tips," Wickersham said.
Leads and information about McAfee's disappearance "went cold," the sheriff said.
Until Wednesday.
"A young lady and her father came to our office and provided us with information on what had happened to Stephen," Wickersham said.
The woman was given the information by Fiacco's ex-girlfriend.
"We were over a year in this investigation and we didn't have any information until the young lady came in a few days ago," he added. "She confided in her father and her father said 'we are going to the sheriff's office.'"
Fiacco and MacDonald were questioned and investigators were led to a shallow grave behind Fiacco's home in Ray Township where a skull and lower extremities were unearthed.
Investigators also found a lower jaw bone and clothing in a field in northern Macomb County's Bruce Township. A positive identification on McAfee's remains was made from evidence at the Bruce Township site, the sheriff's office said.
Investigators were told McAfee was shot multiple times in the field, which Wickersham described as "way off the beaten path."
"Fiacco's story changed multiple times," he said. "We do not have a motive as to why this transpired."
But a motive may not be necessary, Smith said.
"We can't look into the minds of killers or accessories," he said. "All we can do is prove they did it."
Fiacco is charged with first-degree murder, disinterment and mutilation of a body, using a firearm during a felony and lying to a police officer. MacDonald is charged with being an accessory after the fact to a felony murder, disinterment and mutilation of a body and lying to police.
A Romeo District Court judge ordered Fiacco held without bond Friday. MacDonald's bond was set at $20,000. Both are due back in court on May 23.
Written by Corey Williams, Associated Press
Have a tip we should know? [email protected]