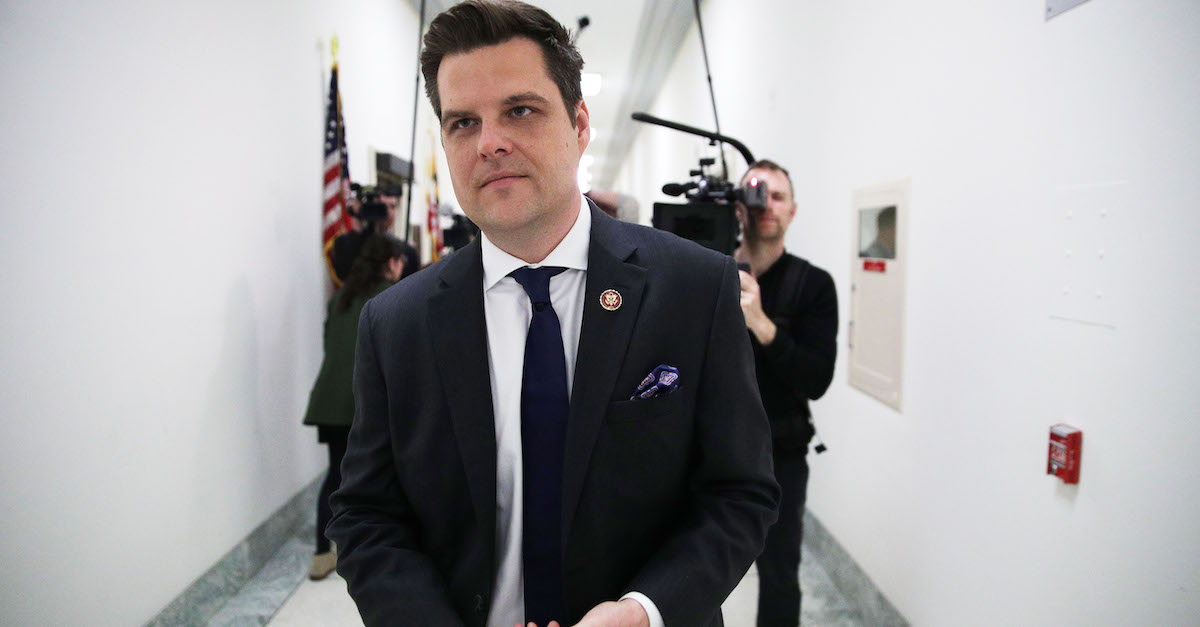 Florida Rep. Matt Gaetz (R), in the opinion of many, tampered with a witness in plain sight, the night before President Donald Trump's ex-lawyer Michael Cohen testified before the House Oversight Committee.
Given the timing of the text and the content of it — "Hey @MichaelCohen212 – Do your wife & father-in-law know about your girlfriends? Maybe tonight would be a good time for that chat. I wonder if she'll remain faithful when you're in prison. She's about to learn a lot" — it seemed pretty clear that this was a threat. But Gaetz insisted that it was "witness testing" and that people were misinterpreting his words.
Eventually, Gaetz apologized saying he "should have chosen words that better showed my intent. I'm sorry." It should be noted that Gaetz, who the night before a congressional hearing publicly threatened to expose extramarital affairs of the only witness, never actually did so and suggested that his words were slightly off.
On Sunday evening, yet another Gaetz apology was reported, this one by Vanity Fair.
Gaetz reportedly sent Cohen a text after (as in, not before) the hearings to say he was sorry, again emphasizing that it was "never" his intent to threaten Cohen. Not only that, Gaetz said it is "not who I am and [not] how I operate."
"Mr. Cohen, this is Congressman Matt Gaetz," he said. "I am writing to personally tell you I'm sorry for the tweet that I sent which many believe was threatening to you. It was never ever ever my intent to threaten you in any way."
"While you don't know me, that is not who I am and how I operate. I do not wish any harm to you or your family," he added. "I was upset at what was transpiring and chose my words poorly. I will work to be better, as I know you said today you will as well. Have a good evening. – Matt."
Let's recap this: 1) he's sorry people believe this was a threat (it's not me, it's them); 2) he didn't intend for that to happen (it did); 3) he doesn't operate this way (he did); 4) he didn't wish harm to Cohen's family (the tweet clearly suggested harm to family relationships would happen if the truth were exposed); 5) it was a poor choice of words caused by "what was transpiring." That's pretty vague, but it seems Gaetz is saying he was upset about what Cohen might say or what the implications of that would be for Trump.
Cohen's response to Gaetz noticeably referenced his family's "damaged" life and said the tweet did cause harm.
"Congressman Gaetz, I cannot thank you enough for your message. The tweet, sadly, has only made a bad situation worse […] not only for my wife but for my children as well," he said. "With your permission, I would like to share your message with my wife and children. Hopefully, it will bring a little peace to their damaged life."
Cohen also said, however, that "We all make mistakes especially in this crazy partisan time." He thanked Gaetz, hoping that "the tweet does not cause you any harm."
"If it does, and there is anything I can do to help you correct it, please feel free to reach out and I would be happy to assist," Cohen added.
This offer for assistance may be in reference to reports that the Florida Bar was going to look into the matter. As Law&Crime's Ronn Blitzer noted, the action taken here could range from mere reprimand to disbarment.
Florida's guidelines for attorney discipline say that Gaetz would have 15 days to respond to a claim against him, and then a governing body would determine whether to move forward. Should they ultimately find him in violation of the rules of professional conduct, they can take action that includes suspension or revocation of his license, or merely a public reprimand.
Nor was it helpful for Gaetz that the following exchange with President Trump was overheard and reported:  "I was happy to do it for you. You just keep killing it." Needless to say, this was taken as an admission that Gaetz was happy to mess with Cohen for Trump. Gaetz did not clarify the conversation when asked about it, saying he doesn't talk about what he and the president discuss on the phone.
Whether the Florida Bar cares about Cohen's assistance in this matter remains to be seen. It's also not clear if Gaetz has yet offered his best defense to the Florida Bar.
[Image via Alex Wong/Getty Images]
Have a tip we should know? [email protected]